To mark the sixth anniversary of the conflict, Islamic Relief are joining a broad coalition of aid agencies in amplifying the voices of those we do not hear from enough – the brave Syrian aid workers battling to save lives in the most challenging of conditions.
Today we are handing over our social media platforms to our Islamic Relief team deep inside Syria, to share what life is like on the front line and to re-emphasise the need to act now to end the crisis.
Read more about the accounts of our Syrian staff below:
Abdulqader Mohammed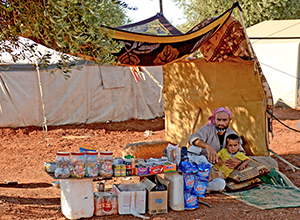 In camps across Syria I see the faces of people who have been forced from their homes. I read in their eyes thousands of stories of agony and despair.
My mind is filled with the struggles of normal Syrian people who did nothing to deserve the horrors they have faced. Every time I have listened to an old man, a young girl, a mother or a little child, I have heard their pain and their hope for a decent life and a better future.
Among the people I have met inside Syria's camps was a man who had his home and source of income shattered by the war. However, he remained full of determination.
He was trying hard, with minimal resources, to equip himself with the hope in his heart to move on in life and be the breadwinner for his family and children. I met him while sitting under the shade of an olive tree with his little child. He was selling a small amount of products to camp residents to earn a living.
Although he was unable to afford a tent to protect him from winter cold or summer heat, he was determined to live in dignity and made a tent for himself without poles or ropes, stretching a blanket across the olive tree to make some shade for himself, his child and his goods.
This man has not surrendered to his challenging conditions. He is like thousands of other displaced and refugee Syrians who are empowering themselves with patience and optimism despite the sadness that is filling their hearts.
Ahmad Aldamen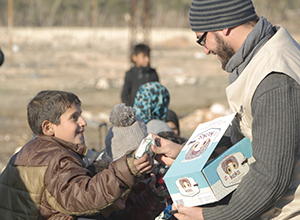 One winter day, I found myself waiting in the cold with my Islamic Relief colleagues to meet displaced families coming in green buses from northern Aleppo towns in search of safety. I was rubbing my hands together to get some warmth.
The buses arrived carrying families who had been under fire and  unable to escape. They spent the most difficult time of their lives without water, food or blankets to protect them from the chilling weather. Their pale faces looked out of the bus windows, their bodies exhausted from fear, hunger and bombs.
From all sides, adults and children were rushing to get out of the buses and coming to us for a bottle of water or a meal to feed their empty stomachs. They had been living under blockade for several months.
In the middle of the crowd I saw a little boy. His name was Hamza and he was nine years old. He was trying to hold something with his hands but he was too weak. I got closer to him and told him to take the biscuit I was holding. I was only a few meters away but he couldn't look at me. I realised then that he was blind.
As I got closer and handed him the piece he said: "Thank you, uncle! My dad was killed in an airstrike." Then he continued his story about leaving home and losing family and friends. I put my hand on his head and I recalled the moment four years ago when I left my own hometown, in the Homs countryside, on a similarly very cold day. I was unable to return to my home.
Before leaving Hamza to help another displaced person, I told him: "You are in a safe place now. What do you need?" He replied: "I want another piece of biscuit for my younger brother."
Hamza now lives with his mother and brothers in a camp in northern Idlib. He still dreams he will return one day to his hometown.
Maher Shaar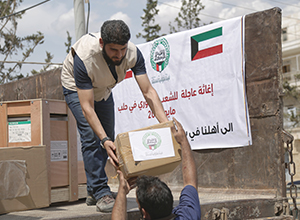 Every morning I am facing a  humanitarian mission more difficult than the previous day as the situation deteriorates and the Syria crisis becomes more complicated. Working as a field supervisor with Islamic Relief inside Syria made me understand the suffering of families andpeople who have been forced from their homes, especially the injured.
I was responsible for assessing the needs of hospitals in the countryside around Aleppo, delivering medical aid through our projects during 2016.
In my second month with Islamic Relief, I had to deliver medical aid to hospitals in the countryside. When we reached the area we heard the sound of bombing and I started to worry. A doctor told me attacks had intensified that day in the northern part of the Aleppo countryside. We did not have enough time and had to move as quickly as possible to deliver the medical aid to hospitals. When there are attacks, medical needs increase.
Delivering the aid under jetfighters and amid the sounds of nearby explosions was terrifying. I asked myself a question: Should we continue or move back? It was the first time I have felt so close to death.
It was like a difficult exam for me. I remembered the calls for relief and appeals we received from clinics and hospitals for urgent medical needs. In my previous visits, I saw the empty shelves of basic drugs needed for surgeries. With me I was carrying all these items that mean life for the injured. My hesitation and fear would deny thousands of injured people treatment and healing.
I realised there are two things we cannot put at risk – our lives and lives of others. Doctors told us to be cautious. In our way we passed through towns that were full of life and happiness but we saw them as ghost towns with no life as everything was destroyed. Cities have changed as if a flooding has damaged everything.
We reached our destination and it was a great feeling to be safe with the other people. I cannot forget how the medical staff in each clinic and hospital welcomed us with big smiles but we had to rush inside the hospital to avoid the jetfighters. Inside, I heard the cries and the groans of the injured children and elderly. It was such a great relief for everybody there that we arrived bringing the required medication and drugs.
I saw countless numbers of injured people inside the hospital.
On our way back, we felt more secure but we had to continue our mission to alleviate the suffering of the families. It was a difficult journey. The good feeling was that we made it to the hospital that received big numbers of injured people. We left the area hopeful to return again to find it a revived place with no more killing and pain.
Taher Sibsi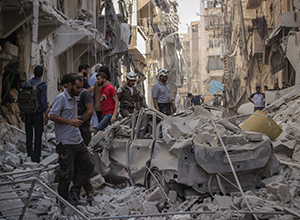 "On a Saturday morning at 6am, after an intensified raid in my area of Aleppo, I was forced to leave my home, just as all our neighbouring families left the area and the town became empty of people.
Aleppo's streets were empty but filled with destruction and debris.
In a heart full of sadness and fear, I asked my wife to prepare to leave the town. My eyes welled up with tears as  I looked at the walls and said  farewell to the place, hoping not be away for too long. My wife told me she was ready. I closed the door and my hands were shaking while holding the keys.
We got on my motorbike. The sound of bombing was getting closer and closer. Once, a bomb hit a nearby building while driving so fast. Dust filled my way.
I saw an old woman lying on the ground. I looked at her closely. She was dead. Our hearts started beating faster as we drove faster. I didn't know where I was heading. I entered a grove full of trees. There, I saw children crying with fear and running with their families far away.
My motorbike stopped working. I tried to fix it but it wouldn't switch on. The bombs didn't stop falling.
My wife and I were so frightened. She was praying the whole time until the motorbike finally turned on. We drove again until reaching a friend's house. It was 7pm.
The house of my friend is a bit safer than our home. And it's an area where thousands of people sought refuge as a break until reaching a secure area. We had tea with my friend and felt some warmth.
Suddenly, shells started to fall on the area and many people in the streets were killed or injured.
The catastrophic story is not over yet. Where should we seek shelter?