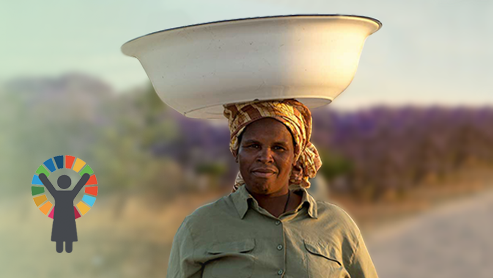 The Commission on the Status of Women will be held from 14-24 March 2016 in New York. Here we explain how we're engaging with the annual event and why gender justice is so important to Islamic Relief.
Q: What is the Commission on the Status of Women, and CSW60?
A: The Commission on the Status of Women – CSW for short – is an initiative from the United Nations, and is dedicated to promoting gender equality and the empowerment of women across the world.
The first CSW was held in New York in February 1947. When the United Nations was founded in 1945, only four of the 160 signatories were women. Despite this, they succeeded in inscribing women's rights in the founding document of the United Nations. At the first CSW meeting, all 15 government representatives were women, and a majority of women delegates continues to this day.
Q: What will be discussed there?
A: Each CSW has a different theme, and this year, the priority theme is Women's Empowerment and the Link to Sustainable Development.
Each year, the Commission reviews a previous theme. This year's review theme is the elimination and prevention of all forms of violence against women and girls, which was discussed in 2013.
Q: When is it, and how does it make a difference?
A: The Commission has a proud history. In its first 15 years, it focussed on setting standards, changing discriminatory legislation, and fostering global awareness of issues affecting women.
It successfully argued for more inclusive language in the Declaration of Human Rights, and has drafted early international conventions on human rights, such as the 1962 Convention on Consent to Marriage, Minimum Age for Marriage and Registration of Marriages.
In the 1980s, the Commission started discussing women's issues as part of broader mainstream issues aside from others and brought violence against women into international debates. This resulted in the Declaration on the Elimination of Violence against Women.
CSW60 is being held from 14-24 March 2016 in New York, and will be the first meeting since the adoption of the 2030 agenda and the 17 Sustainable Development Goals, which will inform global direction for the next 15 years.
Q: Why is it relevant to Islamic Relief's work?
A: Many of the world's poorest people are women. Inequities based on gender can deprive people of dignity and hold them in a cycle of poverty. It is important to engage in this, and in debates about and with other groups who are sometimes disadvantaged.
Islamic Relief has made 23 strategic gender commitments, as part of our gender justice policy. These are along the themes of gender responsiveness in humanitarian action, gender programming in a development context, gender advocacy, and institutional arrangements.
Islamic Relief can add an Islamic perspective to ongoing discussions about gender justice. The voices of the faith community haven't always been included in these spaces, and yet many people living in the poorest areas of the world are very strong in their faith.
Discussions with people at CSW60 will help us to connect with others, share ideas, and inform people about some of the gender justice work we are doing.
Q: What is Islamic Relief's involvement in the Commission on the Status of Women?
A: Islamic Relief is holding three events at CSW60.
The first, from 4.30 -530pm local time on 15 March, is a parallel event – which means it's held outside the UN building. Titled 'The Islamic Response to Combating Gender-Based Violence', it will be an opportunity for Islamic Relief to share its strategy for working towards the eradication of domestic violence in all the countries where it operates.
The second, Engaging Faith-based Communities to Implement the Sustainable Development Goals – achieving gender justice and eliminating violence against women and girls – is being held inside the UN building in New York with the US Federation for Middle East, the Lutheran World Federation, World YMCA, and World Vision. We aim to create space for people to come together to eliminate violence against women and girls and share real-world examples of faith-inspired action in support of women's empowerment. This event is from 11.30am-12.45pm on 16 March.
Islamic Relief's third event as CSW is on financial inclusion – specifically how the role of Islamic microfinance can reduce exclusion and promote women's economic rights and empowerment. It will be held with the OIC and Islamic Development Bank, and will be held from 6.30-7.45pm on 17 March.
Q: What do the Qur'an and Prophet Muhammad (PBUH) say about gender justice?
A: There are many strong inspirational women in Islamic history. Bilqīs, the Queen of Sheba, was a prominent and powerful female leader of Ethiopia, Somalia and Yemen; Ayesha bint Abu Bakr is considered one of the main scholars in early Islamic history, and Khadija bint Khuwailid is known for her economic independence.
Prophet Muhammad (PBUH) told men that they had rights over their women, but also said that women had rights over their men.
Other passages on gender justice include:
"Another of His signs is that He created spouses from among yourselves for you to live within tranquillity: He ordained love and kindness between you." (Qur'an 30:21)

"Men shall have a share in what their parents and closest relatives leave, and women shall have a share in what their parents and closest relatives leave, whether the legacy is small or large: this is ordained by God." (Qur'an 4:7)