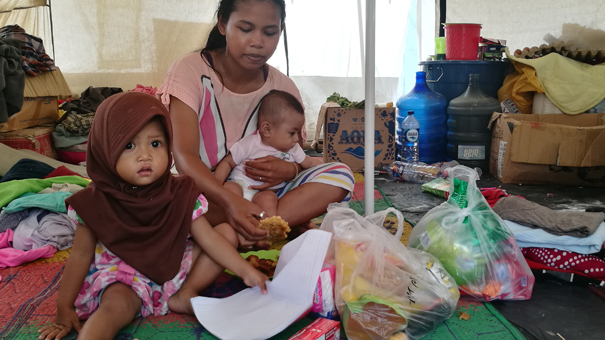 Wednesday 21st November 2018
Since the latest earthquake and tsunami hit the Indonesian island of Sulawesi in late September, Islamic Relief Worldwide has been on the ground in Palu helping people rehabilitate their lives. Initially much of this work has revolved around working with local partners – Ruma Zakat, PKPU and KONSEPSI – to deliver much needed emergency relief items such as food packages, clean drinking water, blankets and tarpaulin tents.
Nearly two months after the tsunami over 200,000 people require humanitarian assistance. 85% of homes in Palu were completely destroyed, those in remote rural areas are currently living in makeshift tents.
One of those is Miranti who lives her two children in a tent. She has been left homeless as her home was washed away.
"We rely on the relief given to us. The quake and tsunami left us homeless with no work."
She admits that she and her family have been struggling over the past couple of months.
Heavy rain is leading to contaminated and unsafe water sources as well as the liquefaction of the soil. This is particularly the case in Petobo, south eastern Palu. Aid agencies including Islamic Relief are working to meet aid demands including water supplies.
Working in Sigi
Islamic Relief has identified a key area for recovery and rehabilitation. With more than 75% of homes and infrastructure destroyed, the team in Indonesia will be working with 20 locally recruited volunteers in the sub-district of Sigi Biromaru to assist in efforts. Efforts include the drilling of a well which can supply up to 10,000 litres of water for 500 people. This is part of a wider effort to secure clean water for those remaining in the Palu area.
Alongside this, an effort to build 10 temporary learning centres in Sigi will be starting the coming week. This is will accommodate 800 students across the centres, the area is currently being cleared and prepared with help of the military.
Please donate what you can. Your donation could save lives.