This week politicians, activists and NGOs from across the globe have come together for this year's United Nations Climate Change Conference – known as COP24* – in Katowice, Poland, to discuss how we're going to tackle climate change. With faith and non-faith parties and activists as young as 16-years-old leading the way, it's an exciting time for growth, discussion and change.
Here at Islamic Relief, we know the devastating impact climate change is having on the world's most vulnerable people worldwide. That's why our Senior Policy Advisor on Poverty Reduction, Jamie Williams, has joined the talks.
We caught up with Jamie to find out what's happening at COP24, what the challenges and developments are and to hear why COP24 is so important for Islamic Relief and our work empowering communities in almost every continent across the globe!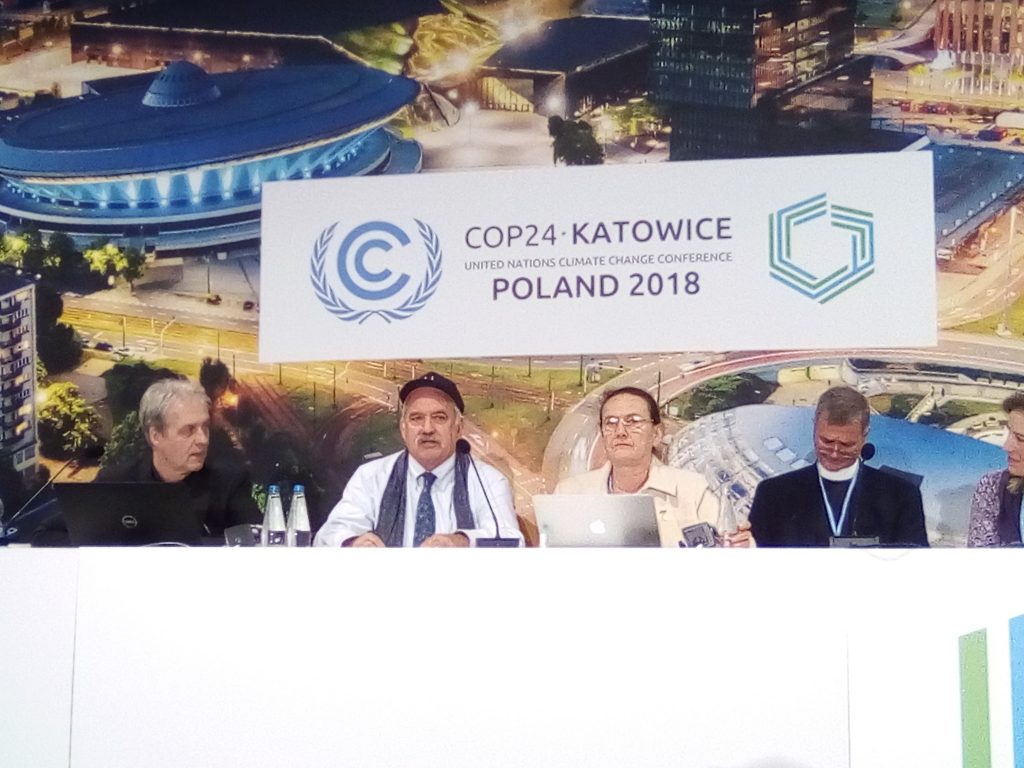 IR: Hi Jamie! Hello from London! So you're in Katowice right now taking part in COP24. Could you tell us a little about the conference? Why is COP24 so important?
Jamie: COP24 is essentially a meeting of all parties affected by climate change. This year is the 24th meeting in a row, hence the name COP24. Politicians and delegates are meeting together to make decisions on how we can accelerate measure to reduce climate change and follow up on the agreements of the Paris Climate Change treaty. Most countries in the world have signed this treaty and we're now focussing on putting these agreements into practice.
Islamic Relief has been involved directly with climate change issues since 2007, as we know all too well the impact that climate change is having on vulnerable communities struggling with poverty. For those who want to find out all the latest info about COP24, we've built a dedicated section on our global website to explain why we're here.
IR: So how does COP24 and climate change relate to the work of Islamic Relief?
Jamie: Very directly. We work a lot with governments to ensure we can help communities most affected by climate change. Their decisions stem a lot from this meeting and the committees around it so COP24 is indirectly – but comprehensively – engaged with our work.
In terms of climate change, there's two strands really. One is mitigation – trying to reduce the amount of global warming that's happening and will continue to take place. So we're looking at changing consumption patterns – especially around energy, agriculture and transportation. At Islamic Relief, we've produced both an environmental policy and a carbon reduction policy looking to reduce our own effects. We're also working to support governments to do the same through hard work by our different country offices and programmes.
Most of what we do, however, is in terms of adaptation. This is about helping people look forward, to manage the effects of the changing climate and preparing them to deal with accompanying shocks and traumas. This can – and does – make a comprehensive difference. We talk a lot about "building resilience" in communities and that's the bulk of our work, particularly in hot countries where we've seen the huge effects of climate change. The other part of resilience is disaster risk reduction – ensuring that people are able to plan for and work through the effects of disasters, extreme weather events, drought, flooding etc.
Our report Climate Champions outlines why and how we're supporting communities worldwide to prepare for the devastating effects of climate change.
Image: In drought-affected communities across Kenya, women and girls often have to walk long distances to collect water.
IR: What is the significance of the conference being held in Poland this year?
Jamie: On the one hand, it was – quite simply – Europe's turn to hold the conference. However, the actual location is accidentally quite significant. This year's COP is being held in the centre of the coal mining area where coal is intrinsic to people's lives. Many people work in the industry here. In fact, there's a coal rig right next to the conference centre.
We're fully aware of how a lot of people's lives are dependent on mining coal here and that's a stark contrast to what's being said in the conference about the need to eliminate fossil fuels. Across the world, we are faced with tough choices about how we have lived in the past and how we need to start living in the future. Whether it's meat consumption, coal production or travel emissions, nearly everything needs to be looked at if we are to build a more sustainable world.
IR: Has there been anything that's been particularly unexpected or positive about COP this year?
Jamie: I arrived on Sunday before we started and so far what's been most inspiring for me are the young people here. The Secretary General of the United Nation's speech on Tuesday made an important statement on how the baton must be passed to the young. They have the answers to the future. The world's youth have to find solutions which have eluded older generations. This is something that I didn't perhaps feel so strongly about before I came.
For example, I had a meeting here with a 16-year-old from Tasmania. He was saying how young people need to have more of a position at the table because then – and only then – can they understand what the problems are and perhaps seek solutions with a less confined mentality. This can help us to look at things with more flexibility and in a less linear way.
IR: What are some of the significant outcomes that have been forged over the last few days?
Jamie: The decisions are made through a two-week negotiating process so the outcomes will follow this week. However, one of the feelings at the moment is that developing countries are very reluctant to sign up to the technical issues which are being discussed this week. This may be because they feel the finances aren't going to be forthcoming. If there's no money, they of course simply can't afford to make big changes.
The problem is that the financial decisions won't be discussed and made till next week and by then it'll be too late to come back to the technical issues. This is obviously a bit problematic in the way that the negotiations are organised. My colleague Shahin will be joining me for the final week and I hope we will see more progress by then.
IR: In terms of the Paris Agreement and the targets set, how do you see the future – especially as we're not on track to meet the conditions in the agreement?
Jamie: The big message from civil society organisations and from Climate Action Network – which I'm representing as well as Islamic Relief – is about ambition. The national plans for mitigation are due to be signed and sealed in 2020, so now is a big moment to make sure these plans are ambitious and accountable.
We need radical transformation to make this happen – especially in the way that countries are coming together. We have to see a massive rise in ambition in those plans and we want governments to know that they are supported but also that they are being watched.
IR: For Islamic Relief in particular – what's next on the agenda?
Jamie: We have to reinforce our work at our programme and country level. Where we can make the most direct contribution is to continue to expand and to learn from our work with communities on adaptation and lowering the risks associated with climate change. We have some excellent experience and some very good projects such as our satellite-mapping pastoral project in Kenya and we have a particularly excellent reputation for being able to reach communities in places where others can't.
What we need to do now is to improve our collaboration further with other organisations and I've been deeply involved here with the interfaith group at COP. We need to inject the ethics and morality of the issues into the debate. As an Islamically-inspired organisation, we're in a very strong position to do that – especially since there aren't many organisations like us and none others like us at this conference, as far as I'm aware. We have a voice and we must speak out.
IR: Here at Islamic Relief we're working at every level to inspire people towards change, including volunteers, staff and community members. For Islamic Relief supporters, how can they help fight climate change and support these efforts?
Jamie: We can all make steps towards change today. Step one would be to look at our list of key things that people can do straight away to make their own personal contribution. The best one is to go for a green energy supplier. It literally takes about ten minutes and can even save you money – so it's a win-win all round! I know that Islamic Relief UK has exciting plans for engaging our supporters and volunteers in this area in the coming year, so there's lots to look out for.
It really is very easy to get involved and to do something positive. If you turn down the heating one degree for example – you're saving on your carbon footprint and this makes a significant difference. Beyond our own personal habits, get involved and engaged with movements and your local community. Why not talk to your Imam about the issue, for example? Ask if your Iman could talk about climate change during a Friday khutbah and you'll see just how powerful community engagement can be.
Finally, I'd call on all of us – not just Muslim supporters but those of all faiths or none – to reflect on the morality of what we're doing to the world, to the people who are already suffering the most through poverty. We need to think about how our actions in the developed world and high-income countries are undermining the creation of Allah and going against our duty of stewardship (amana). This calls for reflection and action!
*The Conference of the Parties to the United Nations Framework Convention on Climate Change