Islamic Relief is celebrating exceptional women this International Women's Day, as we put the spotlight on colleagues who are leading the fight for women's equality. Here we hear from Milgo Keinan, protection and inclusion officer for Islamic Relief in Somalia.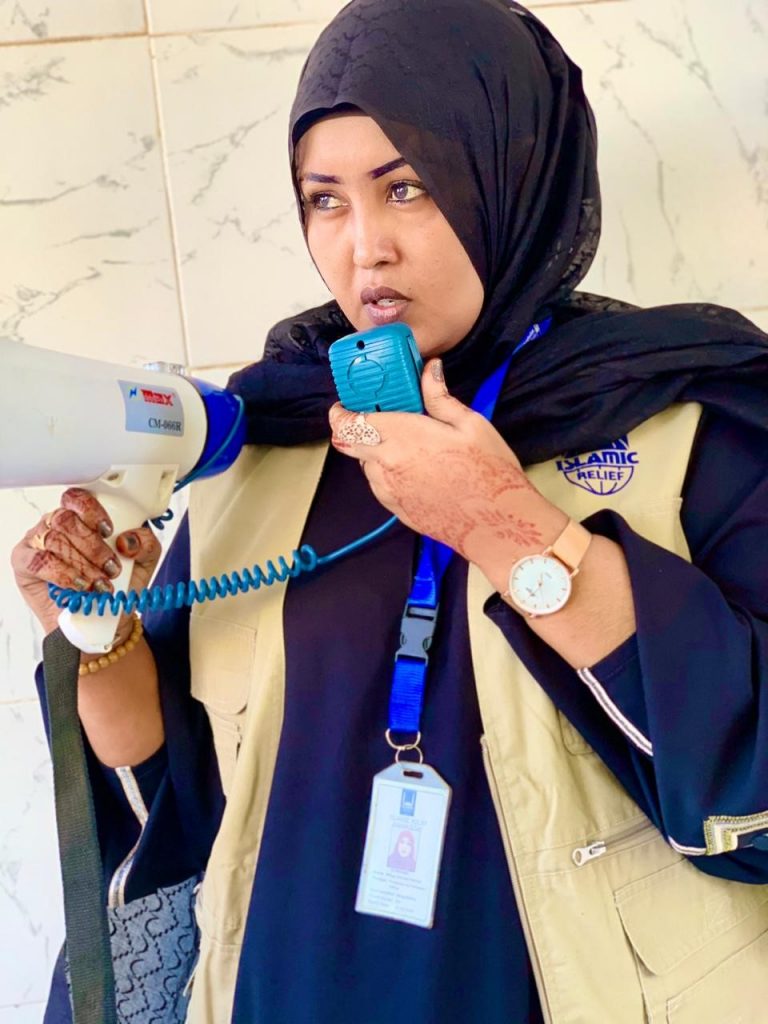 I wanted to work at Islamic Relief to contribute to my society in my own positive way, and I see my work in gender protection and inclusion as an integral part of the charity. This is not just a job: I see it as my duty. Many people and especially women do not have the opportunity to make their voices heard so I want to give them a platform – literally and figuratively – through my work. #ChooseToChallenge is what inspires me in my day-to-day work.
The fight for gender equality
My job is to fight for equality, for the inclusion of marginalised people, to call out biases and to raise awareness around sensitive topics within the community. My whole life I went against traditional expectations – both personally and professionally – so I challenge the world around me on a day to day basis.
Thanks to my position, I work directly with women and girls and see first-hand how important the local challenges. I encourage women and girls to challenge gender-based violence, female genital mutilation / cutting (FGM/C) and early forced marriage.
I demonstrate through workshops how we can all change the world. I am fortunate to be able to work with a large number of people and especially women who inspire me every day, both in work and in my personal life. They inspire me to make my voice heard and put my ideas on the table.
There is space for us if we push for it
I have encountered chauvinistic and narrow minded attitudes from men in my community. Growing up, I was taught that a woman has to fit certain roles, and mostly it meant that she had to be a caretaker for her family. Some men dismiss me, assuming I am not in charge, or go and speak to my male counterparts instead. There is a perception that women are not decision-makers. Part of my job is to change that narrative by being an example to not only the men, but also to show girls and women that there is space for them if they push for it.
It is still a daily struggle to be a woman in this world, even though I am lucky and I had the chance to be educated and work in a job that I enjoy. But being a woman and standing up for gender equality isn't easy, I get a lot of criticism from people who believe a woman is meant to be a certain way.
But I continue to be inspired by the women I work with, some of whom are survivors of abuse, neglect or FGM/C. They show me that their situation does not define them and they can overcome their struggles. It is this hope that reminds me that change happens because people want it for themselves.
Change is possible
So I continue to believe in myself, believing in the strength of women, and in the struggle we are waging. I remain hopeful and carry on teaching the younger female generation about their potential, because it is all about changing the next girl and the one after, until society realises that amongst them are warrior females who have birthed other warrior females.
If you believe in something strongly like gender justice, you will find ways to create change. It doesn't have to be big, most positive changes happen when people are consistent and build slowly. That is what I am doing, I am changing peoples' minds by putting in the time.
I urge girls and women to work hard, be themselves, and do things with love and dedication. Say 'yes' to an opportunity, even if it's out of your comfort zone. I had to do new things in my career, and though it was a bit scary at the start, it helped shape me as a person.
Don't ever give up.