Coronavirus is increasing the risk to women and girls experiencing abuse, says Islamic Relief's head of global advocacy, Shahin Ashraf.
In times of crisis, the most vulnerable members of society are always at highest risk of harm.
The stateless, the impoverished, the displaced, the abused.
These are the people who already lack access to healthcare, who don't have a safe place to self-isolate and who risk being cut off from crucial services and support systems.
As with all crises, vulnerable women and girls must stay on the radar. Their risk of abuse increases, yet their visibility diminishes.
Coronavirus and abuse: Another hidden killer
When forced to spend more time at home vulnerable women are at even greater risk from domestic abuse.
In times of crises, we're used to seeing how women and girls remain at greater risk of poverty and abusive practices.
In low and lower-middle-income countries, missing out on school will have a primary impact on young girls. Likewise, for women living in poverty and/or engaging in informal care/domestic work or cash-in-hand jobs, any sense of financial aid crumbles.
As women and girls' education and livelihoods are disrupted, the likelihood of being subjected to sexual violence, forced marriage and human trafficking increases.
We believe that statistics begins don't lie when it comes to gender and the impact on women and girls.
As the Coronavirus (COVID-19) outbreak has become a global pandemic, we must not therefore forget these vulnerable women and young girls. Women at home here in the UK and further afield will otherwise remain hidden in the shadows as we self-isolate.
Whether in the global north or south, the right to life, to health and wellbeing are universal human rights.
Viruses like COVID-19 don't discriminate in terms of wealth, status, nationality, ethnicity, age or ability. They do however, hit the most vulnerable the hardest, where safe access to healthcare, food, shelter and water are for some not a daily commodity.
Women will, without a doubt, be adversely affected by this pandemic.
With higher numbers of women in health and care work on the frontlines at risk of ill-health and death, women are particularly vulnerable. What's more, with schools closed and women already undertaking three times as much unpaid care work as men, looking after children and elderly relatives, women have a lot to contend with.
For women in particular who are already facing greater economic insecurity and caring responsibilities, a spike in domestic abuse is however yet another stain on their lives.
Sadly, the mandatory lockdowns to curb the spread of COVID-19 will affect victims of domestic violence in ways we can't image. For them, self-isolation doesn't mean living in the confines of a safe haven we call home.
Instead, victims/survivors remain trapped in their homes with their abusers, isolated from the people and the resources that could help them.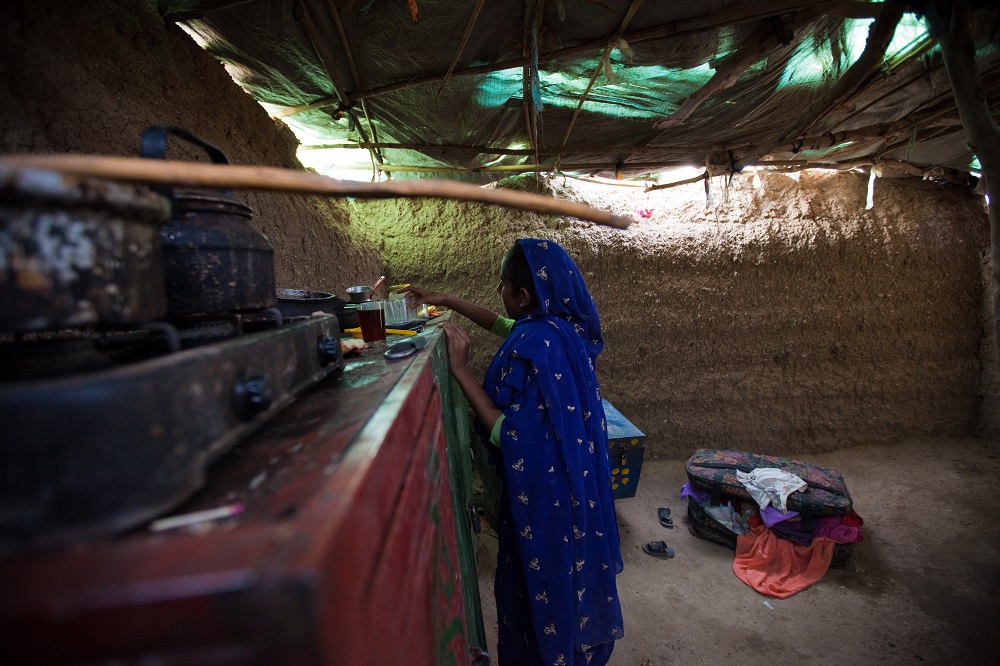 COVID-19 across the globe: Worldwide abuse
Vulnerable women are being offered extra means of support during the COVID-19 epidemic.
Domestic violence is steeped in power and control. And whilst many of us look to our families and homes as a place of solace, vulnerable women – and men – will instead find themselves in a self-contained prison of abuse. Without a way to seemingly escape.
Even in the best of scenarios, it takes on average a victim to experience 50 incidents of abuse before getting effective help.
Victims in isolation will be fearful of going to the local hospital, afraid of catching Coronavirus. Support networks and a friendly face will be cut off as we self-isolate from neighbours, colleagues and loves ones.
Sadly, we are already seeing the results and the impact across continents and global divides.
One women working in the sector in the USA described exactly how a client was scared to seek medical attention for the injuries caused by her abuser:
"I spoke to a female caller in California that is self-quarantining for protection from COVID-19 due to having asthma… Her partner strangled her tonight. While talking to her, it sounded like she has some really serious injuries. She is scared to go to the ER due to fear around catching COVID-19."
Likewise, the impact of the COVID-19 pandemic on the lives of women is being documented in Asia and France. Here in the UK, we've already heard how lockdown in the context of the COVID-19 outbreak will lead to a "domestic abuse pandemic".
However, in the global south, many incidents of abuse will not make the headlines.
In countries across Europe and North America, measures and systems are in place to attempt to address the physical and emotional abuse women are struggling with alone.
In Spain for example, pharmacies have set up the code word "mask-19" to allow women being abused to seek help. Likewise, here in the UK, the government has also released special guidelines for victims of domestic abuse during the COVID-19 pandemic.
It's therefore no secret that women already suffering behind closed doors, remain ever more at risk. However, for women in more volatile situations – those who are displaced in refugee camps, living in conflict zones and in societies which lack adequate protection mechanisms, recognising and seeking help is even harder.
Protecting women: Speaking out against abuse
During lockdown, we must check on the wellbeing of women in our communities.
Whilst we know that we have to follow the government guidelines on social distancing and isolation, we must also recognise that this can lead abusers to become more violent.
And as fear, worry and anxiety grow, so too do the means for abusers to seek control.
Wherever we are, we must stand with vulnerable women and girls and let them know that they are not alone.
We need to reach out to women and girls, keep lines of communication open and realise the risks out there. If you suspect a woman is at risk of abuse, pick up the phone. Seek advice and let her know she is not alone.
Further afield, we're working in communities across the globe to provide direct aid to families in need.
Our staff are therefore there to offer a friendly face and support to women in need. However, gaining the strength and will to seek help is far from easy.
We need to let women know that we're here and we stand with them.
As we in the aid community look to adapt in what we see as unprecedented times, our thoughts and prayers go out to the women as ever are paying double the price during times of crisis.
May Allah (SWT) protect them all, ameen.
Help vulnerable people across the globe during the COVID-19 pandemic. Donate to our Coronavirus appeal and help save lives.
This blog was first published by Islamic Relief UK.