As this year's Commission on the Status of Women (CSW) draws to a close, Shahin Ashraf, Head of Global Advocacy for Islamic Relief, argues that women have a vital role to play in high-level discussions around climate change.
Founded in 1946, the Commission on the Status of Women (CSW) promotes, reports on, and monitors issues related to women's socio-economic, political, civil, and educational rights.
The United Nations Headquarters hosts the annual gathering of UN members to evaluate progress towards gender equality, examine challenges, establish global standards, and formulate policies that will promote the advancement of women worldwide.
Considering this, we should all look to Sustainable Development Goal 5 (SDG5) – one of 17 Sustainable Development Goals established by the UN in 2015 as a blueprint to achieve a better and more sustainable future for humanity by 2030.
The SDG5 aims to achieve gender equality for all women and girls through 9 targets while balancing social, economic, and environmental sustainability. This standalone goal focusing entirely on gender equality is a significant victory for women worldwide.
A host of challenges for women and girls
The underlying targets of SDG5 relate to ending all forms of discrimination, violence, and harmful practices towards women, alongside recognising and valuing unpaid care and promoting shared domestic work, and ensuring equal opportunities for leadership and universal access to reproductive healthcare.
Despite this goal, there is still a persistent and increasing burden of poverty on women. Women are more likely than men to live in poverty due to gender inequities that lead to lower-paid, unpaid, and undervalued work.
Globally, women earn 24% less than men while doing at least twice as much unpaid care work, such as childcare and domestic chores. Often, this work is done in addition to paid work, resulting in longer and physically detrimental workdays.
Evidence shows that there has also been a sharp increase in the ever-burgeoning crisis of violence against women during the pandemic, including but not limited to domestic abuse and child abuse. Sadly, vulnerable women and girls have had fewer opportunities to distance themselves from their abusers and access the life-saving resources that can help them.
According to the World Health Organisation, 35% of women worldwide experience some form of sexual and gender-based violence (GBV) in their lifetime. This number can shockingly escalate upward to more than 75% in crisis settings, such as during the 2013 Ebola outbreak.
A lack of progress on gender inequality
There are 3 primary global strategies for achieving the targets of SDG5 that we must all work towards:
Promoting equal rights to economic resources, property ownership, and financial services for women
Empowering women through technology
Adopting, strengthening, and enforcing policies and legislation to ensure gender equality.
The inequality between men and women in sharing power and decision-making at all levels is an impediment that needs to be addressed.
Women and girls, particularly those of indigenous origin, face inordinate and unprecedented challenges brought by climate change. If we wish to succeed in combating these threats, we must begin to promote women's voices.
At the 2021 UN Climate Change Conference COP26, the lack of progress in gender equality was ever more apparent – most significantly in the absence of women at high-level meetings.
The event was a stark reminder that women are still not equally informed, addressed, or represented in climate decision-making processes.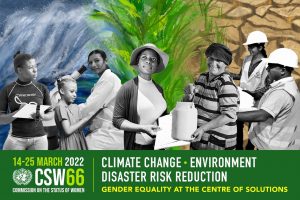 At COP18 in 2012, leaders agreed that additional efforts need to be made by all parties to improve the participation of women in bodies established under the 1992 United Nations Framework Convention on Climate Change (UNFCC) and its 1997 Kyoto Protocol. If we are to see the urgency, then all the mechanisms from the Kyoto Protocol to the Paris Agreements should reflect this.
10 steps for change
So, what can we do to help make sure that the voices of women and girls are heard on climate change? We must:
Encourage joint and cross-collaboration and joint engagement with UN agencies, international non-governmental organisations, faith-based organisations, and civil society on gender and climate change
Ensure gender-sensitive government and institutional policies are a major factor in formulating inclusive measures on climate change and are effectively incorporated
Increase international climate financing to address loss, damage, and adaptation provided as grants rather than loans. The least-developed countries must not be forced to take on debt to tackle the climate crisis; such debt burden has meant that poorer countries currently spend 5 times more on debt than on climate action
Ensure that women at the centre of climate change mitigation and adaptation participate fully in climate change policy and decision-making. The lack of attention to women's full participation reinforces inequalities and deepens non-engagement and disconnect
Strive to effectively maximise women's needs and perspectives through the broader social impacts of climate investment and decision-making
Mainstream gender throughout any climate project and redirect resources to measures, including adequate social protection mechanisms, that build resilience and uphold the rights of women and marginalised communities on the front line of the climate emergency
Work with faith actors as critical partners in ensuring a gender-just response to the climate emergency through understanding local language, heritage, and indigenous knowledge acquisition and supporting participatory community-based approaches to enable women and children to learn about projects and contribute to decision-making processes
End unsustainable fossil fuel subsidies by governments and act upon repeated pledges to do so, as these are one of the most significant financial barriers hampering the world's shift to renewable energy sources
Invest in women's ability to tackle climate change by ensuring that they have access to land rights in order to enhance resilience strategies, not just for this generation but for the next. Climate change impacts women because of their disproportionate reliance on land-based resources and the insecurity of their rights in owning these resources
Continue to push and adopt the UNFCCs Enhanced Lima Work Programme on Gender and its 5 priority areas that aim to advance knowledge and understanding of gender-responsive climate action and encourage the full, equal, and meaningful participation of women in the UNFCC process.
The plight of women is compounded by the national and global denial of their voices in climate decision-making processes. The climate crisis is accelerating faster than ever, and as increasingly ambitious climate commitments are being made, now is the time to act.
We must raise our ambitions as the UNFCCs Gender Action Plan lays out, for "full, meaningful and equal participation" and include women as enablers in climate policy, finance, innovations, and business outcomes.
Together, we have the choice to hold those in power to account when our voices are silenced. In my experience, when I have been invited to the table to talk, those in power are more concerned with hearing themselves than listening to my perspective.
This can cause us to lose faith in those who have power, but with courage, leadership, and a strong moral compass, we can hope to make the world a better place.