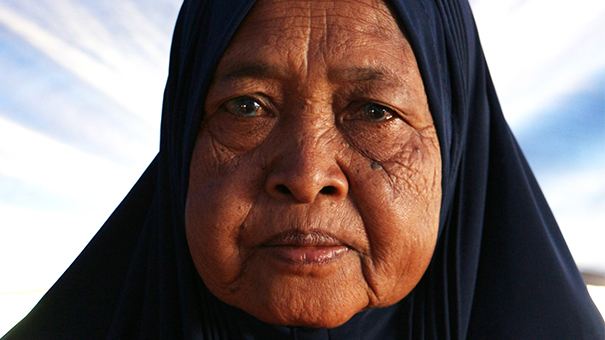 Nenek, a 68-year-old disabled grandmother, has suffered both grief and joy in the wake of the deadly Central Sulawesi earthquake that claimed more than 2,000 lives on 28 September 2018.
When the earthquake struck her village, some 15 kilometres south of Palu city, was devastated. The earthquake was so strong here that it turned the ground into molten mud – a process known as liquefaction.
Nenek's home and farm were destroyed. She was washed away by the waves of mud and was not sure she would survive. Her 10-year-old granddaughter Siti has been missing ever since and the family fear she was buried alive. Nenek now lives in a tent with her son and his children.
Moving into the camps though, gave Nenek a fresh lease of life. The injuries she suffered during the earthquake meant that she was able to see a doctor who has treated her once crippling arthritis. The widow can now walk and says physically she feels better than she has in years.
In her own words:
My name is Nenek. I am 68 years old and a widow for a long time now. I have children and have a lot of grandchildren. I live in Sigi District, Central Sulawesi, Indonesia.

Our village turned to liquid. I witnessed my house collapsed and get swallowed by mud before my eyes. I was taken by waves of muds, away from my other family members and neighbours.

There was nowhere to escape to. I swam and went with the flow of big waves of mud. Huge uprooted trees and debris of houses surrounded me. I started to loss my strength then fainted.

When I regained consciousness, I saw myself covered with mud and bruises. I was lying amidst the rubble. I was alone with no one to ask for help.

I never thought that I would survive because of my disability. For years I was not able to walk due to my bad arthritis – it would make my legs swell especially when it got too cold at night.

When the liquefaction stopped, I had to force myself up and had to seek help from strangers. My family thought that I was dead.

That night, I was reunited with them in one the camps. Unfortunately, we are no longer complete. My 10-year-old granddaughter, Siti, is missing. We fear that she was buried alive along with my other neighbours.

Then aid started to come, and aid workers started bringing us food and medicines. One of the doctors who  was helping offered to check my legs. They gave me medication and I started to have my physiotherapy and started receiving my medicine for free the next day.

After a few days I started to feel better. Not too long after, I started walking just like how I used to walk. I could not believe it. I didn't think I could walk again without pain and forcing myself.

When I was half buried in the rubble and tried to stand up and cry for help, it felt especially impossible. I was so scared that I would not be able to get my medicine and would not be able to move again.

It's now been two months since the disaster happened. Me and my family are still living in a tent, and we have no any idea how long we will have to stay here. We still have not found my little granddaughter.

We aren't living comfortably. Our makeshift tent is made of blue-coloured tarpaulin. It gets so hot during the day. I sleep on the ground with used sack to protect my body. But who am I to complain when I just received the best gift I could ever ask for?

I may have lost everything but I cannot lose hope. Allah just twisted and turned my fate to something special; giving me the best surprise gift I could ever ask for –the chance to walk again.
—
Islamic Relief and its local partners are on the ground, providing much-needed aid for families affected by the tsunami and earthquake.
So far we have helped more than 9,400 people, including Aslam's family, by distributing food kits water, hygiene kits, tarpaulin, blanket and cash grants in, Palu, Sigi, and Donggala, Central Sulawesi.  We have also operated child-friendly spaces for some 400 children, many of whom have lost their homes or the schools.