Islamic Relief Worldwide recently consulted with faith leaders and civil society organisations in Pakistan to ensure a soon-to-be-launched Islamic Declaration on Gender Justice works for the local communities it aims to serve.
Islamic Relief Worldwide and Islamic Relief Pakistan jointly hosted a series of five consultations over the New Year period with community faith leaders, civil society organisations and government departments to explore the merits of tackling gender injustices through a unified Declaration.
The workshops, attended by over 50 people, sought to dissect the issues faced by many of society's most vulnerable and to discuss the solutions proposed in a Declaration grounded in Islamic principles. The document has been in development over the last 18 months, created in conjunction with scholars, faith leaders and academics and co-owned by Islamic Relief, INGOs and UN agencies.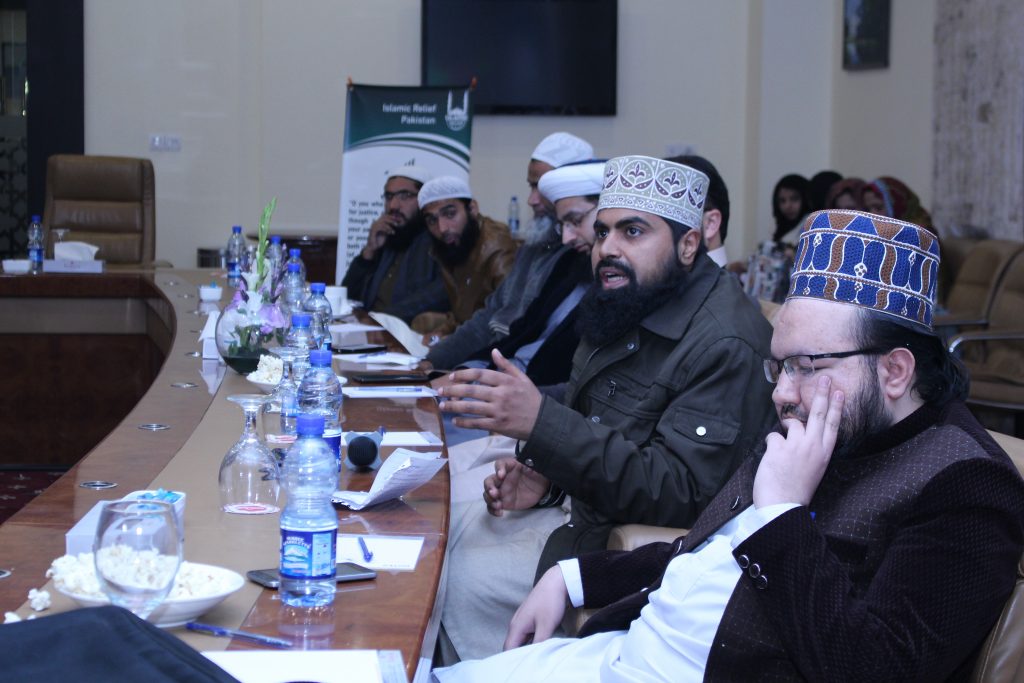 Female and male scholars were asked to share their thoughts on the Islamic teachings contained in the Declaration, and provide insight in to how they could engage the Declaration with local communities in order to tackle harmful practices which can perpetuate due to religious misunderstanding. It is one of the first times female Muslim scholars have been consulted on the issue of gender justice by an NGO in the country.
Similarly, organisations working with communities at grassroots level shared their thoughts on how a Declaration could provide the impact needed to inspire long-term and meaningful change. Participants expressed a keen interest in the Declaration as a unifying tool to support the programme and implementation efforts already taking place.
The ideas discussed brought to light the need for an authoritative and clear direction on what Islam says on issues as diverse as inheritance and family life to employment and leadership. The need for religious literacy, awareness of cultural sensitivities and Islamic leadership was underlined throughout the consultation process.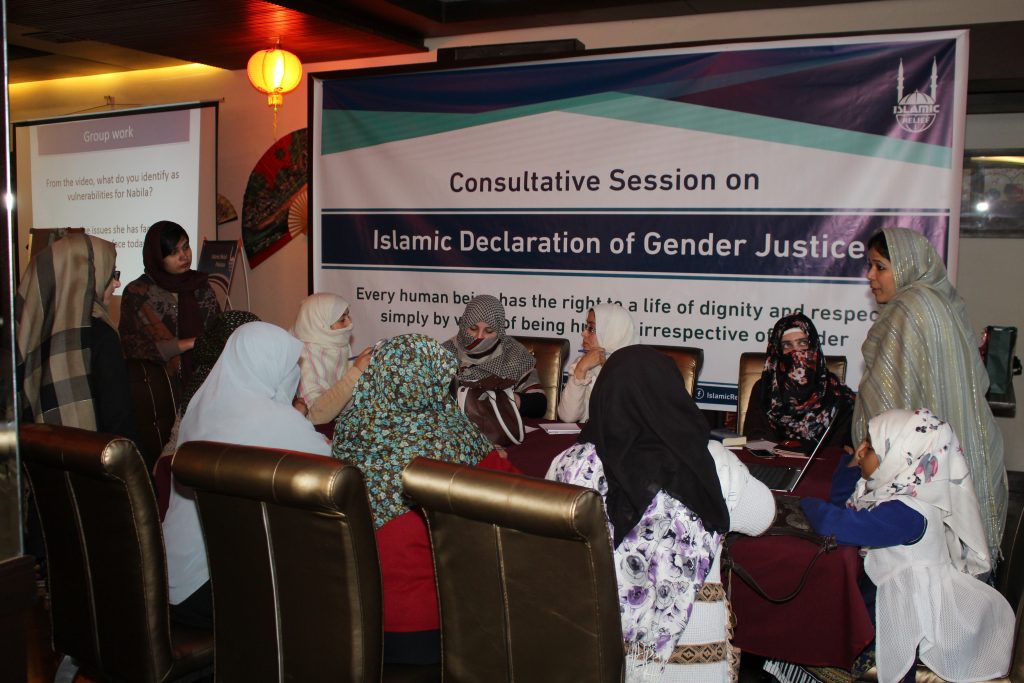 Shahin Ashraf, Head of Global Advocacy at IRW, who led on the consultations, said: "The diversity of sessions held in Pakistan have proved incredibly useful in shaping this important Declaration to ensure it is relevant, timely and reflective of current issues faced by vulnerable women today. It was important and vital to hear the voices of those who will work with us to engage communities through the Declaration and it has confirmed that the time is now in creating a universal statement against these injustices. We have been very pleased to see such active engagement and look forward to the momentum continuing in the years to come."
Raza Narejo, Head of Programmes at Islamic Relief Pakistan, said: "Bringing Islamic perspective in the discourse on gender is a laudable initiative that will rally the support of faith communities, scholars and policy makers to work towards a world with equality and equity. Providing the opportunity to reflect on an Islamic Gender Justice Declaration will play a pivotal role in evolving the consensus around this important document."
Feedback from the consultations will go towards shaping the final Declaration which will be launched in June this coming year.
The Islamic Declaration of Gender Justice is a landmark initiative that presents key Islamic faith principles of justice and balance to challenge harmful cultural practices and social conditions. It affirms the God-given rights of all human beings as well as our duty to stand up firmly to uphold justice. The proposed Declaration aims to mobilise global and regional action and advocacy, and calls for signatories to pledge their commitment to ending gender injustices.
The Declaration recognises and respects the diversity of thought and opinions within the Islamic tradition and Muslim cultures, as well as those outside the Islamic community and among allies. In doing so, it focuses on establishing common purpose and commitments without being prescriptive of strategies and approaches.
Previous consultations have been held in the UK and USA as well as with key stakeholders across the world. As the launch of the Declaration nears, similar consultations are planned in Niger and the UK engaging with government departments, NGOs, faith leaders, civil society organisations, religious institutions and scholars, academics and activists.
To read more on Islamic Relief's Gender Justice work visit: www.islamic-relief.org/gender-justice