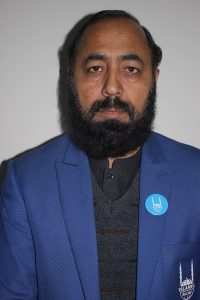 Amid the harsh winter of Afghanistan, nearly 25 million people do not know where their next meal is coming from as the country faces the worst drought in 30 years. Islamic Relief Afghanistan's Programme Coordinator Afzal Sadat sheds light on the dire situation on the ground, and the challenges aid workers are facing during this worrying time.
Afghanistan is on the brink of a catastrophic famine and we, as humanitarian workers, are seeing signs of this every day. Last week I met a mother with 4 children. She was crying out to my team: "If you can feed my children, please take them; I have nothing to give them. And they will die."
As a father myself, I found this simply gut-wrenching. I thought about my own children at home and couldn't even imagine what that mother was going through.
When we go to do our food distributions (which provide food packages to vulnerable families), the desperation is tangible, and it seems to be rising by the day as the harsh winter sets in and temperatures dip below freezing. There are huge queues wherever you go. Signs of malnutrition are evident in the swollen bellies of the children and in their sunken cheeks. The panic in the eyes of their parents is clear.
Following the worst drought in 30 years, the current political situation, and a freezing winter, 24.4 million people are facing extreme hunger and economic hardship. Almost no one in Afghanistan (98 % of the population) is getting enough food to eat, according to the UN.
And on top of this, flash floods in Helmand and Kandahar provinces last month displaced hundreds of families, destroyed farming land and killed many animals.
For months now, people have been selling all their belongings out on the street in order to buy food and heating. I'm not sure how anyone has anything left to sell. Every day thousands gather to try and find work, but few jobs exist. Many professionals such as teachers and business people lost their jobs in the recent upheaval, and they are on the breadline like everyone else.
People are not only desperately hungry, but they are freezing too. They have no firewood, charcoal or gas to heat their homes. Many are literally dying of cold, particularly children. Families are putting hot water in plastic bags and putting them under blankets before their children go to bed.
I work specifically with orphans and widows, who are already some of the most vulnerable, but you can imagine how difficult things are becoming for them.
Many widows used to be able to find work, but in the current situation, they are too scared to venture out. They sit at home, feeling hopeless and desperate, unable to feed themselves and their children.
Widows are calling me to say: "I have no food for my family to eat, my children are sick. I can't afford to go and see the doctor or to buy any medication. What can I do?"
We have a sponsorship programme which provides women such as these with a regular stipend to provide for their children. We also offer psychosocial support and business advice to 5,000 widows so they can support themselves.
The Afghan banking system remains in chaos and it's extremely challenging accessing funds from donors, although we have found solutions and money is now being transferred to our office on a regular basis. If a solution to the international transfers is not found within the next two-three months, many agencies will be severely impacted and won't be able to provide timely humanitarian assistance. The consequences of this may well be the difference between life and death. We really need the government of Afghanistan and the international community to help solve this banking crisis.
For now, we are still able to buy basics and are providing 12, 000 vulnerable families with basic goods like beans, oil, flour and rice, and charcoal, firewood, charcoal and blankets, but we can't possibly reach everyone in need.
It's a very stressful time for aid workers and many are experiencing psychological problems. Every day they face people with so many needs, but their capacity to help is limited. They receive a salary and are able to clothe and feed their children and keep them warm, but they feel guilty that they cannot do more to help others who can't.
For months now it feels like we have been living on hope alone. Above all, we hope that the authorities and the international community will urgently do what they can to protect everyone from this looming famine and in the long-term, to provide a better future for all. But the people of Afghanistan have suffered for too long.
Please help Islamic Relief to deliver vital humanitarian aid in Afghanistan. Give generously to our Afghanistan Appeal now.