Environmental journalists and columnists from Pakistani nationwide print and electronic media outlets have visited drought-affected parts of Balochistan with Islamic Relief.
Invited by Islamic Relief Pakistan, the media representatives saw for themselves how climate change has worsened people's lives and how increasing water scarcity is affecting rural livelihoods.
The visit helped them understand the challenges communities face. It was also an opportunity to discover how Islamic Relief has been supporting these communities to become resilient through climate sensitive agricultural modelling and water resource management interventions.
Following the visit, Islamic Relief held a workshop on environmental journalism for journalists based in Quetta, Balochistan.
Focusing on building their capacity to effectively report on the challenges posed by climate change, the training covered identifying environmental issues and developing and reporting a story.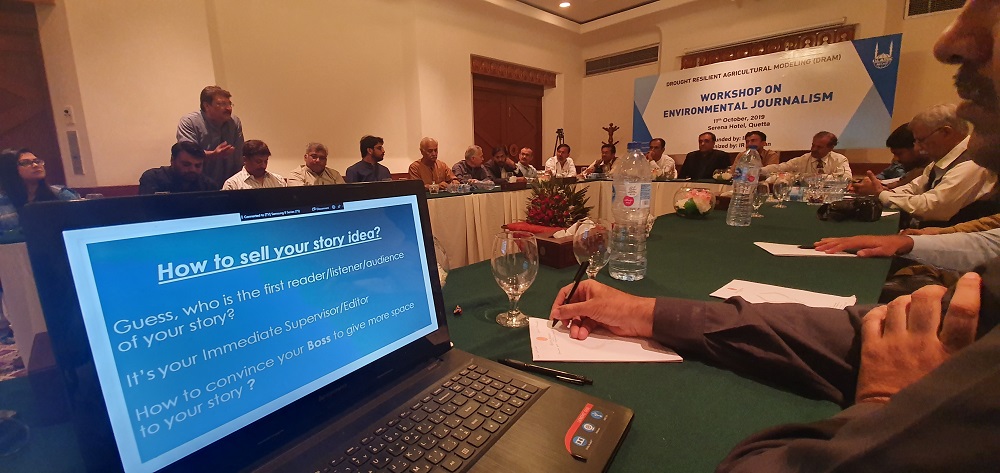 A group of senior journalists from Lahore, under the leadership of Nasir Jamal of Dawn newspaper, delivered presentations about the importance of environmental journalism.
"Environmental change is a reality, which can badly affect global economics, daily life, and all other activities," Shahzada Irfan Ahmed of The News on Sunday told workshop participants.
"It is a need of the time for journalists to write comprehensive news reports about this burning issue," he suggested, adding that climate change causes natural disasters such as flooding, heavy rainfall, and drought.
Islamic Relief raises awareness to prevent wastage of water, pointed out Summayyah Rasheed, Advocacy and Campaigns Coordinator for the charity, which is encouraging farmers to grow crops which need less water.
Journalists were urged to focus more on environmental journalism and to pressure their editors to increase coverage. An environmental journalist's forum will be set up to engage with Islamic Relief Pakistan for future interventions.