A new Islamic Relief project starting next week will help tackle gender-based violence and child protection issues in Afghanistan amid the Covid-19 crisis.
Gender-based violence is prevalent in Afghanistan, with about 87% of women experiencing it in some form, according to the World Health Organisation.
Now with the coronavirus pandemic, the risk has increased further, with gender-based violence and child abuse deepening as the crisis further restricts the movements of women and children and limits their opportunities.
Funded by the UN's Office for the Coordination of Humanitarian Affairs (OCHA), the new Islamic Relief intervention aims to protect women and children in parts of the country that face particularly acute risks.
Kabul and Kandahar have high numbers of coronavirus cases, as do Herat and Nangarhar, border provinces which have seen 200,000 people recently return from Iran and Pakistan.
Islamic Relief will use radio broadcasts and printed materials to encourage communities to tackle gender-based violence and child protection issues, and to prevent the spread of coronavirus. The project will engage faith leaders and community leaders in speaking out.
Thousands of women and girls will receive dignity items such as sanitary pads, and survivors of gender-based violence will be helped through counselling.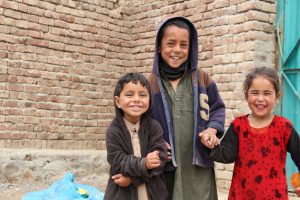 Separate mobile outreach teams will work in communities to support children at risk, who will also be given hygiene items and recreational materials. It is expected that we will provide protection support for hundreds of children who have been separated from their loved ones, giving them interim care and helping them find and reunite with their families.
The six-month project, which is expected to begin in mid-June 2020 will directly support 69,000 women, girls and boys.
Read more about Islamic Relief's efforts to protect children during the coronavirus pandemic here.
With your support, Islamic Relief can continue to provide a lifeline to those pushed to the brink by this global health crisis: donate to our Coronavirus Appeal now.