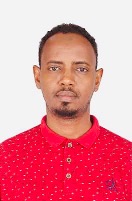 On International Day of the Elimination of Violence against Women, Islamic Relief Somalia's Gender and Inclusion Coordinator Siyad Dagane reflects on the role men can play in creating solutions towards gender injustice, and the ways they can commit to improving the position of women in society.
Through my role, I have seen first-hand how many women sadly suffer from physical and psychological gender-based violence. My role involves supporting these girls and women through psychosocial help. I believe that as a gender focal person, you have to be prepared for many problems.
Since I started my job, some things have become easier and others more difficult. I notice that people are now more open to equality, because society is slowly changing. Problems often arise when dealing with people who don't recognise women's rights and actively work against us and all the good we are trying to achieve.
Tackling violence from the roots
Another concern I have noticed is that some women don't seem to recognise their own worth. This is not all surprising to me as unfortunately some Somali women do not see domestic and gender-based violence separately from married life. They often don't realise they're dealing with domestic violence because they think it's just a part of married life.
In my work I have also learnt to give men the space they need to share their emotions and experiences. Men have to learn to give voice to their experiences and trauma. This helps us to understand and work towards shifting power dynamics that have been ingrained for generations.
We also know that many men who are frustrated with their circumstances unfortunately end up taking their anger out on their wives. This violence can become cyclical, with mothers in turn behaving violently towards their children. It is a vicious cycle that will only be improved by working with both men and women, and by improving the wellbeing of the whole family. For that reason, tackling the root causes of violence in families is an integral part of our projects.
Taking a creative approach creates trust
It is no secret that many women are silent when it comes to gender-based violence. In many Muslim countries, women are afraid of being ostracised from their community or going through a divorce. There is also an enormous stigma surrounding rape, for example.
We take this into consideration when it comes to the support groups Islamic Relief runs, which provide support for issues around health, child abuse, stress management and parenting.  Our ultimate goal is to create a safe, shielded space in which women can talk freely.
Actively trying to reach women
The most important thing for me is that we don't sit back and wait for women to come to us. We try to reach them and we meet them where they are.
We train the Somali community to become their own champions, and to be passionate in spreading and imparting the knowledge they have learned around gender inequality through our teachings.
Somalis are known for their love of poetry and self-expression, so for example, we have young men and women lead theatre sessions in which harassment and domestic abuse are denounced. They propose the subjects themselves and direct the plays. In this way they reach and educate their peers and take ownership for combating these issues.
More collaboration
Change to promote gender equality has to come from all sides. Women can't do it alone, we, men and women, all need to understand the issues and tackle them together to make real change happen.
My life mission
I don't just want child marriage and female genital mutilation / cutting (FGM/C) to end, I also want girls and young women to be educated about things like menstrual health and domestic violence.
My ultimate goal is to create a safe place where girls can get information if they have questions, and where they can talk to each other about their problems.
I also hope to bring about change among the older generation, who are still holding on to harmful cultural practices. I hope that by candidly talking to people about the many issues women face in society, we can ensure that the situation for girls in Somalia improves in the long term.
Support our life-changing work in Somalia and around the world: donate now.