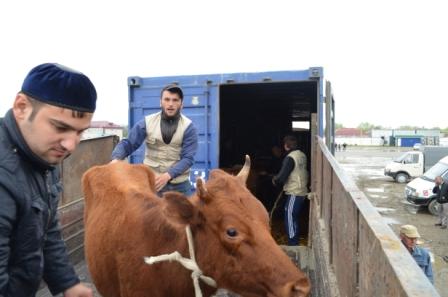 In the aftermath of 15 years of war, many people in the Chechen Republic remain vulnerable.  Almost half of the population is unemployed, and 47 per cent of people live below the poverty line. The average family spends almost three-quarters of its income on food alone.
Now, at least 230 of the poorest families are to benefit from Islamic Relief's latest livelihoods project. The scheme – which targets vulnerable households including disabled or orphaned people – is empowering poor families to improve their income and their diet.
Already, 115 families have received a cow, which provides milk which can be used to supplement their diet – or to sell. The project, which started in January 2013 in the districts of Grozny, Sunzhenskiy, Urus-Martanovskiy, Kurchaloevskiy and Shatoisky, is also ensuring that vulnerable families help one another.
"God willing we will have a lot of milk to sell"
In the village of Kurchaloy lives Arbi Begiev, 52. Since an accident four years ago, he has been registered disabled. His wife, Malika, has diabetes and their 12-year old son has vitiligo.
"We spend a lot of money on medicines," said Malika. "Life is very hard… my husband cannot do anything. We live on our disability pension."
For Malika and her family, the cow means a chance to improve their income. To make sure their livestock thrives, like all other families on the scheme, she benefits from ongoing veterinary care.
"We are so thankful we got the cow from Islamic Relief. I thank God for this. I have experience in animal husbandry because my parents kept cows, but after we married we didn't have the opportunity to buy a cow.
"And now we have the heifer and a calf, which was born in January. We were so happy.
"Our cow gives us seven litres of milk. Most we give to the calf and one litre is for our family. When we give the calf to another vulnerable family, God willing we will have a lot of milk to sell."
The livelihoods project includes a revolving fund, which means that beneficiaries like Malika are helping other poor families. So far, 19 families have received a calf, which was given to them after three months of feeding by the cow.
"I would like to thank Islamic Relief and donors for the cow, it really is a great [source of] support for my family."
"Looking after my cow and calf brings me joy"
Madina Gasalieva, 55, lives in Kurchaloy village. She lives with her disabled brother, his wife and their cousin. After her divorce, Madina has relied on a disability pension from the government – which she receives as a result of her epilepsy – and occasional work as a cleaner.
She was one of 115 people to have already received a cow through Islamic Relief.
"When I received the cow from Islamic Relief," said Madina, "I was so happy because I do not have children, and I want to care for someone. Looking after my cow and calf brings me joy.
"I gave them both names – Mayka the cow and Marta the calf (after the month in which it was born). My cow gives eight litres of milk a day."
The milk supplements the family's diet, and Madina can also produce sour cream. "Selling dairy products, I can buy food such as tea, sugar and bread. It brings me joy and income."
Madina has her own milk processing equipment, but families that do not are now working together to purchase what they need. In Roshni-chu village, Urus-Martan district, the first community milk union is already underway. Nine families contributed to the purchase of milk processing equipment – and, working together, they can boost their income further by producing and selling cottage cheese and sour cream as well as milk.
"In a few months I will give my calf to another family," said Madina. "I got used to Marta, but I understand that she will bring joy to another family."
"Now I can improve the diet of my children"
Mother-of-three, Bella Davletbaeva, 35, gave up her job as a teacher to care for her eldest daughter, who has severe cerebral palsy. The family moved to Grozny to be closer to the hospital, where her daughter spends around 20 days a month undergoing treatment.
They struggle to survive and to meet medical costs on their disability pension, and what Bella's husband earns when he can get work. Now, the family own a cow – and also receive animal feed in the winter months to maintain their livestock.
"Sometimes I cannot afford to buy dairy products," said Bella. "I am so grateful for the cow, because now I can improve the diet of my children, and maybe it will be possible to sell some milk."
Islamic Relief has been working in the North Caucasus since 1995, delivering emergency humanitarian aid and development projects.