Islamic Relief, Muslim Aid, CAFOD and Christian Aid have issued a joint letter vowing to stand together against hatred and support those affected.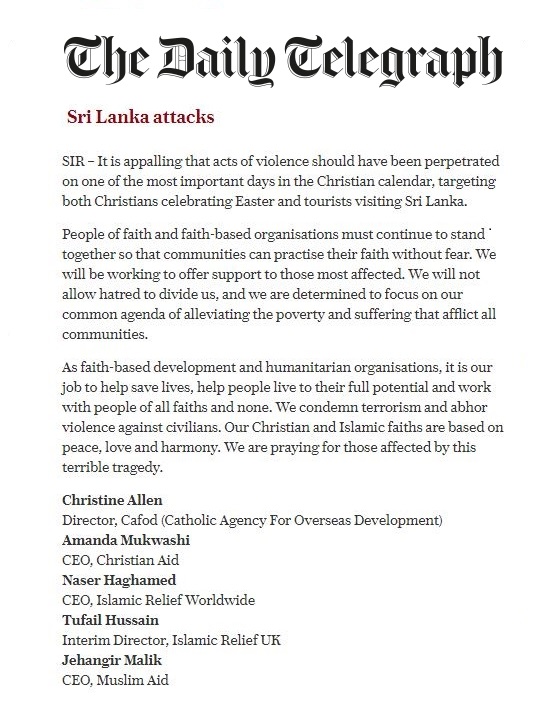 The full letter reads:
"We are shocked and saddened by the attacks on innocent civilians which occurred on Easter Sunday. Our profound condolences go out to the people of Sri Lanka and the friends and families of the victims, both national and foreign. It is appalling that acts of violence should be perpetrated on one of the most important days in the Christian calendar, targeting both Christians celebrating Easter and tourists visiting Sri Lanka.
"As people of faith and faith-based organisations, we must continue to stand together so that communities can practice their faith without fear. We will be working together to offer support to those most affected. We will not allow hatred to divide us, and we are determined to focus on our common agenda of alleviating the poverty and suffering that afflict all communities.
"As faith-inspired development and humanitarian organisations, it is our job to help save lives, help people live to their full potential and to work with people of all faiths and none. We unequivocally condemn terrorism and we abhor acts of violence against civilians. Our Christian and Islamic faiths are based on peace, love and harmony. We are praying for those affected by this terrible tragedy."
Christine Allen, Director of CAFOD (Catholic Agency for Overseas Development)
Amanda Mukwashi, CEO of Christian Aid
Naser Haghamed, CEO of Islamic Relief Worldwide
Tufail Hussain, interim Director of Islamic Relief UK
Jehangir Malik OBE, CEO of Muslim Aid