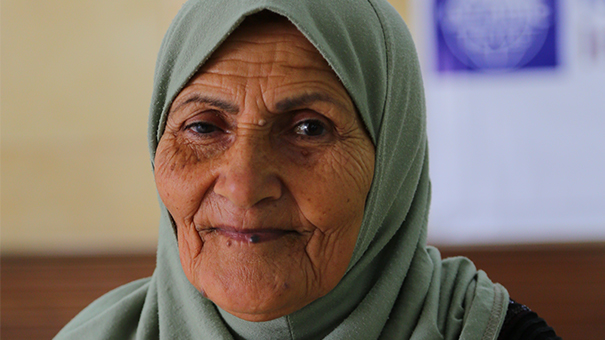 Nahla, 69, Iraq
Eid is a time for joy and happiness and spending time with family members and relatives.
It made me very happy to be able to cook a nice meal for my family on Eid. Meat is very expensive here and that makes it very difficult for us to buy so we mostly buy chicken instead because it's less expensive.
To be honest meat became a dream for every poor IDP in here, we can only eat it on special occasions like Eid. The Islamic Relief meat pack help will last for one week or more and that is very helpful because I will not worry about what to cook this week.
I would describe our standards of living as basic, we have a roof over our head and we don't sleep hungry; we are thankful for what we have but at the same time we can't afford health care or medicine.
My husband and I are too old to work so we mainly depend on our son who uses his brother's car to work as a driver for students around our neighbourhood.
I have benefited from Islamic Relief's other projects before and I have received food parcels from IR multiple times.
I would like to thank Islamic Relief Iraq for their generosity and I hope they continue with their great work. This project was very helpful for us and I'm sure it made a lot of people happy.