Islamic Relief will join close partner organisations to participate in four separate discussions on peacebuilding during Geneva Peace Week 2020 which will take on 2 – 6 November.
The online conference will see hundreds of people virtually come together to share their knowledge and expertise in conflict prevention, peacebuilding and in implementing the Humanitarian Peace & Development Nexus.
Please visit www.genevapeaceweek.ch to register and interact with the diverse programme of events and digital products that will make up the week.
Islamic Relief will be heavily involved in this year's Geneva Peace Week, as we showcase our growing portfolio of peacebuilding programmes across the world, alongside our key partners and other inspirational organisations.
The Art of Peace
In a documentary named "The Art of Peace: Trust & Peacebuilding through traditional art, culture & religious rituals", we are shedding light on the opportunities that art, music, dance and rituals provide to  women and youth from marginalised communities when it comes to engaging in peacebuilding, alternative dispute resolution and reconciliation.
Using footage from our SIDA-funded peacebuilding programme and working closely with Imam Ali's Popular Students Relief Society and GWED-G (with Diakonia), the film captures the colourful and persuasive power of art, song, storytelling or religious rituals for communities in Iran, the Philippines, Indonesia and Uganda. It also showcases the creative ways they can be used to talk about sensitive issues, while promoting cultural heritage and peaceful relations.
"We want this film to illustrate how active marginalised youth and women can be in their communities – speaking out against conflict and pushing to rebuild trust between community groups, regaining livelihoods and transforming society. But we also want to take a moment to reflect and ask ourselves: are these roles genuinely transformative? We hope that the energy and expertise around Geneva Peace Week will help us foster this important discussion, inspired by what participants see in our documentary film," says Islamic Relief Worldwide's Conflict Advisor, Dr Sylvia Brown.
Panel discussions
In addition to premiering this documentary, Islamic Relief has also participated in two pre-recorded panel discussions which will feature in the Geneva Peace Week programme.
The first pre-recorded roundtable discussion is focused on the context in Mali, where alongside our partners at World Vision, Islamic Relief is running innovative, locally-designed and driven peacebuilding initiatives through a faith-sensitive lens.
In many places, faith leaders play an outsized role in communities equal or greater than that of the local chief or official administrator, especially in central and northern Mali.
Hannah Mutawi, Regional Desk Officer for Islamic Relief's West Africa operations said: "The Covid-19 pandemic has added a layer of vulnerability to an already fragile situation in Mali. While it did bring some communities together over shared experiences and suffering, it has also exacerbated inter-ethnic conflicts, increased tensions between farmers and pastoralists, and increased divisions between those perceived to support lockdown measures by following government guidelines and those who do not. Faith leaders are crucial in helping to tackle the attitudes or beliefs that lead to stigmatisation of vulnerable groups, blame and marginalisation. Where faith leaders from different traditions work together, this can be a vital stimulus for reducing inter-religious or communal tensions and promoting more effective responses."
The second discussion is entitled "Identifying Funding and Resource Gaps with Covid-19 in the Field: A Religious Actors Perspective on Health, Gender, Environment and Peace", and is being organised by the International Partnership on Religion and Development (PaRD), of which Islamic Relief is a leading member.
Panellists will recognise how Covid-19 has presented and exacerbated vastly differing challenges towards meeting health, environment, gender and peace needs, particularly in different developing contexts. They will capture the fact that it is essential to identify which resources are severely lacking for those on the frontline of the pandemic response, and where is funding is most needed, in order to allow donors and aid organisations to tailor their actions to best alleviate the needs of those who have been hit the hardest.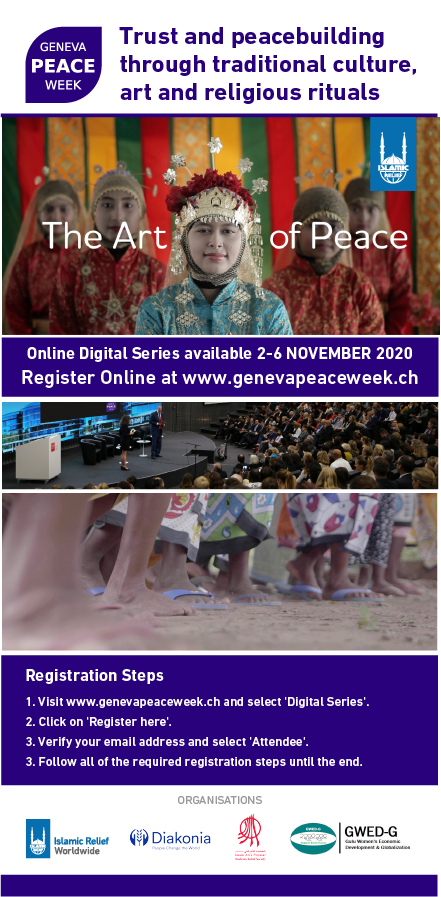 "Rebuilding trust in communities through locally-owned solutions to conflict"
Finally, Islamic Relief will participate in a live panel discussion alongside colleagues from IRC and NRC – the other organisations responsible for implementing Humanitarian, Peace and Development Nexus programmes funded by the Swedish government.
"Rebuilding trust in communities through locally-owned solutions to conflict", will see discussions take place around the crucial issue of trust in peacebuilding.  Speakers will present and discuss learning from recent peacebuilding and social cohesion pilots, funded through the Sida Sustainable Peace Strategy (2017-22), and implemented by International Rescue Committee and partner Commission Diocesaine Justice et Paix, Islamic Relief and Norwegian Refugee Council in DRC, Mali, CAR, Somalia and Pakistan. The event will share experiences of 'brokering' and facilitating inclusive interaction between people and institutions where the absence of constructive relationships lies at the root of conflict.
Trust is essential and yet a fragile part of social life, particularly in conflict-affected contexts. As our triple nexus programme enters its final year, we are looking forward to sharing learning and reflections from the communities we've been working with, as well as examining our own roles as non-governmental organisations (NGOs) by asking: What is the added value of NGOs as brokers of local relations?", says Kadidja Bedoui, Programme Manager for Islamic Relief Sweden .