Osmawani Osman, International External Relations Coordinator for Islamic Relief, reports on developments in the push for gender equality highlighted at this year's Commission on the Status of Women (CSW).
Islamic Relief has been actively participating in Commission on the Status of Women (CSW) for many years now. The CSW is the world's biggest policy-making body that works to promote gender equality and the empowerment of women. Every year, the CSW meets to set policies, discuss progress, identify challenges and set global standards on these two issues. Non-governmental organisations like Islamic Relief are a critical element in the work of the CSW, as we help shape and influence global policymaking through our engagement.
We've been tirelessly underlining the need for gender responsiveness in humanitarian action, sharing our own best practices in gender programming in a development context and in gender advocacy, adding an Islamic perspective to ongoing discussions about gender justice.
In 2016, we were part of the CSW60 and highlighted not only our work on the elimination of violence against women and girls (VAWG) in the countries in which we work, but also pushed for greater faith-based engagement towards achieving Sustainable Development Goals (SDGs), specifically underlining the role of Islamic microfinance in empowering women's economic development, among others.
At CSW62 in 2018, we launched the consultation process of our Gender Justice Declaration and our policy briefs on early and forced marriage and female genital mutilation/cutting (FGM/C).
At 2019's CSW63 we raised issues around social protection, highlighting our intersectionality approach and the role of faith, faith based actors and communities in empowering women and girls living with disabilities and supporting them in exercising their rights.
Due to Covid-19, CSW65 this year was held online. We contributed to the discussion on this year's theme, "Women's full and effective participation and decision-making in public life", through 5 events.
Experts in their field, Najah Almugahed, Gender, Inclusion and Protection Advisor, Mousumi Saikia, Partnerships and Programme Development Manager, Shahin Ashraf, Head of Global Advocacy and Dr Sylvia Brown, Conflict Advisor, spoke at this year's CSW.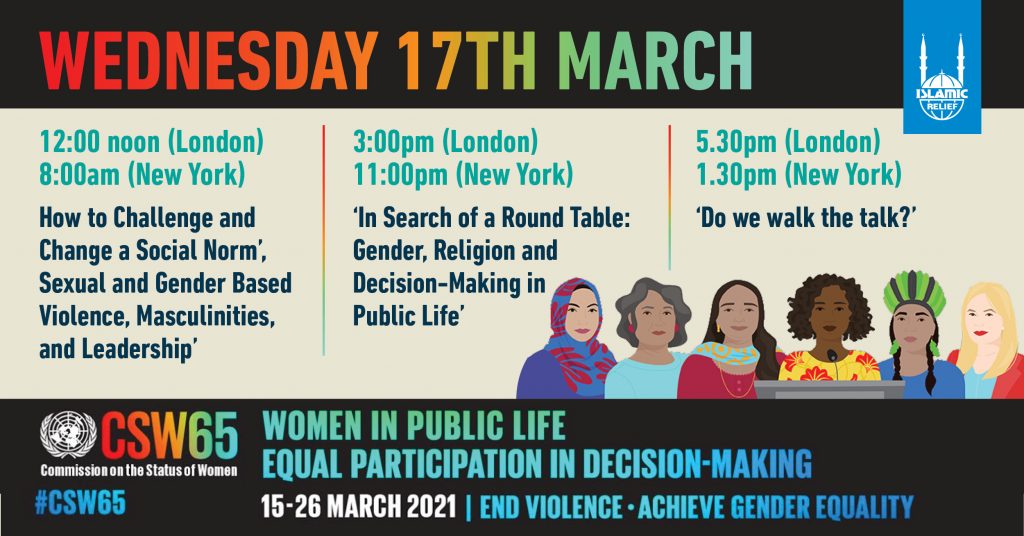 They were joined by representatives of the Ministry of Foreign Affairs of Denmark, Federal Ministry for Economic Cooperation and Development (BMZ) Germany, Global Affairs Canada (GAC), and ECOSOC-accredited non-governmental organisations (NGOs) such as ACT Alliance, Christian Aid, Lutheran World Federation (LWF), Soka Gakkai International, Religions for Peace, World Council of Churches, Side by Side, Elrha, Action Aid, Joint Learning Initiative on Faith and Local Communities (JLI), KAIICID, International Partnership on Religion and Sustainable Development (PaRD) and many others.
Topics included challenging and changing social norms, the intersection of religion and gender in discussing gender justice, women's leadership in conflict prevention and peacebuilding and lessons that can be learnt from organisational gender reviews, including ours.
With CSW65 held online, Islamic Relief were able to bypass geographical barriers and include more amazing women that we work with in all our events. From peacebuilders in Pakistan, Kenya and the Philippines to partner organisations in Rwanda and London, our speakers and panellists highlighted not only their personal, professional and organisational experiences, but also the challenges they faced in their journey to fully and effectively participate and make decisions in public life.
If you missed this year's CSW65, we are pleased to share with you a short summary of all the events we organised and were part of.