We're taking your generosity to people's homes
This year means Ramadan at home for many us, with lockdown and social distancing measures in place in many parts of the world. But physical distance does not mean we are disconnected from those who need our support at this critical time. Our prayers will reach them and insha'Allah so will your generosity this Ramadan as Islamic Relief prepares a massive global food distribution programme like no other.
Every year during the holy month our donors give generously to support families who struggle to access food throughout the year. Our Ramadan food parcels provide essential items like rice, flour, oil and dates, freeing families from worry about where their next meal will come from during the month of fasting.
Last year, we distributed food to 900,000 people in over 30 countries, including some of the most difficult places to access like Syria, Afghanistan and Somalia. This year the challenges will be even greater as more people struggle to access food or earn a living due to the lockdown. Islamic Relief is adapting our global distribution plans to keep people safe.
Delivering aid to doorsteps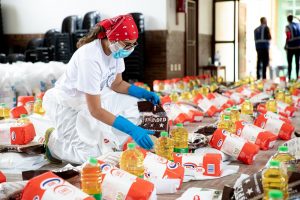 We're changing the way we deliver aid this Ramadan. In Afghanistan, for example, where we distribute thousands of food parcels every year, we've introduced a ticketing system giving every household we aim to reach an allocated time and location point to collect their food parcel while maintaining social distancing. In areas where this is not possible, we'll be going even further, working tirelessly to identify vulnerable people and safely deliver food packages door-to-door. For example, In Kosovo we're using the local "express mail" service to deliver food packs to our beneficiaries' homes. In many parts of the world our Ramadan parcels this year will come with hygiene supplies like hand sanitisers, face masks and gloves to keep people safe.
Meeting the demand for face masks
With the global demand for protective gear and sanitisation products soaring, many in poorer communities have little chance of accessing the equipment they need. In Indonesia, severe shortages of equipment have seen a corresponding increase in price, making these essential items unaffordable for many.
Our teams in Indonesia are training women to make face masks, giving them the opportunity to earn a living whilst providing much-needed help to the wider community. The initiative has been so successful that they've received hundreds of orders from neighbouring hospitals and medical centres that have been very impressed by the quality and affordability of the masks.
Providing mental health support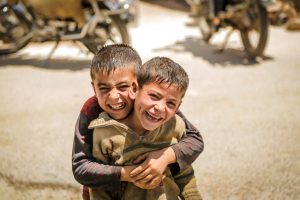 This Ramadan, we may feel cut off from family and friends, which may take a toll on our mental health. Unfortunately for some, this has more dire consequences as the lockdown has led to an increase in violence and abuse against women and children who can no longer reach out to their usual support networks.
In Pakistan, Islamic Relief has teamed up with a local charity, Child and Woman Development Programme (CWDP) to begin offering online psychological support to those in lockdown. Throughout Ramadan we will offer support and advice to those whose mental and physical wellbeing is at risk. Importantly, the assistance is provided in a confidential and accessible manner, encouraging those who may hesitate to ask for help to get in touch and not suffer in silence.
Your support is more critical than ever
Our work is more critical this Ramadan than ever before. In every community we work with there are unique challenges posed by the pandemic and the restriction of movement, many of which will be felt more acutely during Ramadan. If responses are not managed carefully, we fear that – as is too often the case – the world's poorest will be hit hardest by this crisis.
It is an uncertain time for us all but Islamic Relief is doing all we can to ensure those most in need do not lose out this Ramadan. Our aid workers are on the ground, working in some of the most dangerous and hard-to-reach areas on Earth, facing the added challenges of delivering aid safely amid this global pandemic.
Share your Ramadan
Please support our Ramadan Appeal. Your generosity will help us come together as one community and save lives together. Read more about Ramadan 2020 with Islamic Relief here.