Islamic Relief is pointing to an outstanding project in Afar, Ethiopia, as an example of what is needed to help communities experiencing the worst impacts of climate change.
Our SERERE project highlights the societal and systems transitions and transformations to support ambitious climate change adaptation, which the UN says is critical for sustainable development in vulnerable regions.
Increasingly frequent droughts in Afar threaten to turn the region to desert. In response, the project is driving new approaches, transformational change and innovative technologies to turn fear and loss into strength and hope.
It is engaging communities and local government in ensuring consistent and accessible fresh water supplies, fodder and veterinary care. This is helping over 500 families to continue to earn a living despite the challenges.
Pastoralists and herders have broken centuries of tradition to turn to cultivation. They are planting fodder crops new to the region as the pastures are depleted by successive failures of annual rains, and are studying other crops which can be sold to bank savings against lean times. They are managing the pumping and distribution of sustainable supplies to water points for families and schools, and troughs for animals.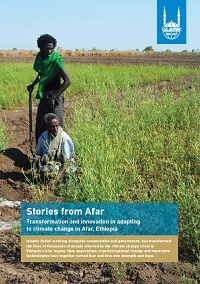 The combination of deep and trusting collaboration with the community, cooperation and engagement with government, and technical innovation and social transformation has proved how the challenges of climate change can be met.
Islamic Relief in Ethiopia and the East Africa region are currently seeking funds to extend and expand this work, which is explored in a new paper, 'Stories from Afar'.