As fighting, death and destruction continue in Aleppo, aid workers struggle to deliver vital supplies inside the besieged city.
Islamic Relief is one of the few International NGOs still operating inside Aleppo city. Since the closure of the last route into Aleppo, our staff are facing huge difficulties and risks delivering aid to the needy families trapped inside the city.
Despite the danger, our staff work on the frontlines in Aleppo to deliver aid to the most difficult to reach civilians in Northern Syria. We provide food items and flour to the families and also medical supplies to health facilities still functional inside the blockaded city.
Our communications with our team inside the city are always met with shelling and bombing in the background, and many stories of injuries, death and destruction. The relentless bombardment on innocent civilians continue with casualties, death and destruction occurring every second. But this is just an ordinary day in Aleppo where simply every place is a target — mosques, morgues, markets, bakeries, hospitals, ambulances, fire trucks, with absolutely nowhere safe for people to go.
Most of the families left in Aleppo are those who are unable to leave — people with disabilities, older people, and the poorest of the poor.
Aleppo, in particular, has been hit badly in the five years since the crisis began and life has only gotten worse for the hundreds of thousands of people left in the area. A widely shared image of a Syrian boy in an ambulance is merely a glimpse into the devastation of what's happening in the country every day.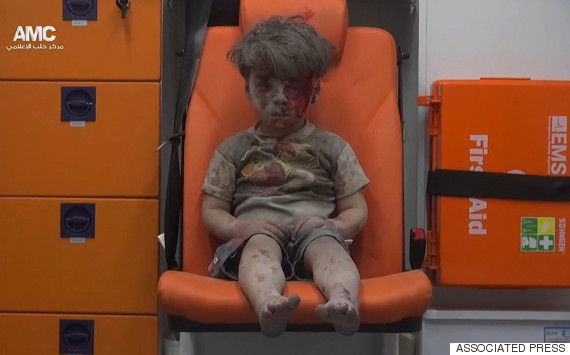 Five-year-old Omran Daqneesh sits in an ambulance after being pulled out or a building hit by an airstirke, in Aleppo, Syria, Wednesday, Aug. 17, 2016. Photo by Aleppo Media Center via AP
The last children's doctor in the city was killed in May in an attack on one of the hospitals supported through Islamic Relief's projects. There are only around 25 doctors left in the city with medical centres particularly targeted and destroyed. Attacks have left hospitals (including the last women's hospital) inoperable, and only two makeshift 'field hospitals' now remain. The only blood bank in Aleppo has also been damaged, as well as the building where dead bodies are taken after airstrikes and barrel bomb attacks. The water that is currently available in Aleppo is unsafe to drink, as the water purification center has also been one of the targets.
Most of the families left in Aleppo are those who are unable to leave — people with disabilities, older people, and the poorest of the poor. There was a time when people were selling their furniture just so they could rent a car and leave the city. Some people remain because they don't want to die in an air strike on a refugee camp, or by drowning trying to cross the Mediterranean, or in a difficult situation in the desert because the border they are trying to cross is closed.
Aleppo has been burning for some time. Next year, it will be six years since the start of the Syrian crisis. For almost six years, Syrians are being killed every day all over the country and those still inside have lived merely on external support and aid distribution. But now, with the access to Aleppo constantly closing and reopening, aid is not reaching those in need.
We cannot allow this to continue for another six years. The entire situation is a shame on humanity. As aid workers, we're calling for more to be done to guarantee safe access for aid delivery in and out of Aleppo.
Ahmed Mahmoud works for Islamic Relief in Syria. He writes this from the Turkey-Syria border.
This was originally posted on the Huffington Post Canada.