270 million people worldwide are facing hunger, starvation and famine, points out Kate Wiggans, Islamic Relief's United Nations representative in Geneva. That's why this Ramadan we're joining together with more than 260 other charities worldwide to make a united call for action.
The holy month of Ramadan is a time in which millions of people around the world connect with each other, spiritually and physically, and remember that all of humanity is connected: that we are one. I do not follow any religion, but I've always felt genuinely moved by the power of this moment and the true human solidarity which Ramadan brings.
I have lived around Ramadan all my life – from attending iftars and Eid parties as a kid in Rochdale, to breaking the fast with friends and colleagues while working in the Middle East, and now at Islamic Relief. I'm always touched by how warmly and graciously I've been invited to participate in this act of unity.
I never felt that hospitality and kindness more acutely than in 2016 when I spent Ramadan in Sana'a, Yemen's conflict-weary capital, where even then many thousands of families faced food shortages. Every day Yemeni colleagues invited me to their homes and brought me small parcels of home-cooked treats and traditional Yemeni sweets.
This year, as the ongoing conflict has pushed millions of Yemenis to the brink of famine, I'm thinking of this generosity and forming my own kind of prayers for all those people, and remembering how lucky I am.
The power of Ramadan's solidarity has always made me regret that the global humanitarian community, of which I am a proud member, does not unite more often.
But this year I feel different.
This year, the humanitarian community has come together to raise its collective voice in the face of one of the worst hunger crises the world has ever seen. Working alongside the International Council of Voluntary Agencies (ICVA) and other close partners, Islamic Relief has spearheaded a movement of more than 260 non-governmental organisations (NGOs) worldwide to sign an open letter saying that there is no place for famine in the 21st century. Together, we call on world leaders to take immediate action.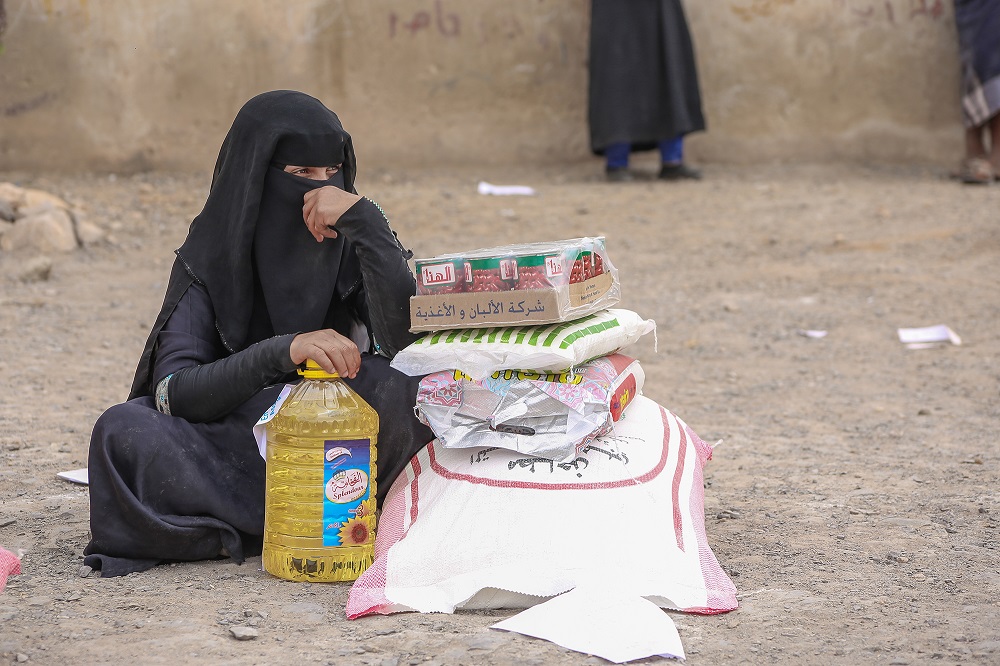 Distributing food assistance to vulnerable families in Taiz.
The shocking reality is that today, 34 million girls, boys, women and men around the globe are just one step away from famine.
It is even more shocking to realise that these people are not starving, they are being starved. Most are fully capable of producing or earning enough to feed themselves and their families. But they are being starved by conflict and violence; by inequality; by the impacts of climate change; by the loss of land, jobs or prospects; by a fight against Covid-19 that has left them even further behind.
Today, we're joining thousands of NGO colleagues from across the world to give a last warning to world leaders that they must act, they can act, to prevent the worst happening. We are highlighting that the consequences of inaction will be many preventable, painful deaths.
In the towns and villages in which we work – in Yemen, South Sudan, Afghanistan and Syria amongst many other places – we see families determined to survive. By carefully dividing portions. By deciding which of their meagre assets they can sell. By taking whatever work they can, no matter how demeaning or how exploitative. By risking being shot at a checkpoint as they try to get to their field or market.
They inspire us to keep pushing for change, because nobody should have to go to these lengths simply to have a nutritious meal.
There is not a lack of food in this world; there is a lack of equality, a lack of peace.
We at Islamic Relief – as well as other NGOs and the United Nations – have been sounding the alarm increasingly loudly, proposing specific ways that donors and governments should help. But they are being slow to act, and inaction costs lives. Today, we are saying that we will not let all hope be lost for these people.
We need three key things.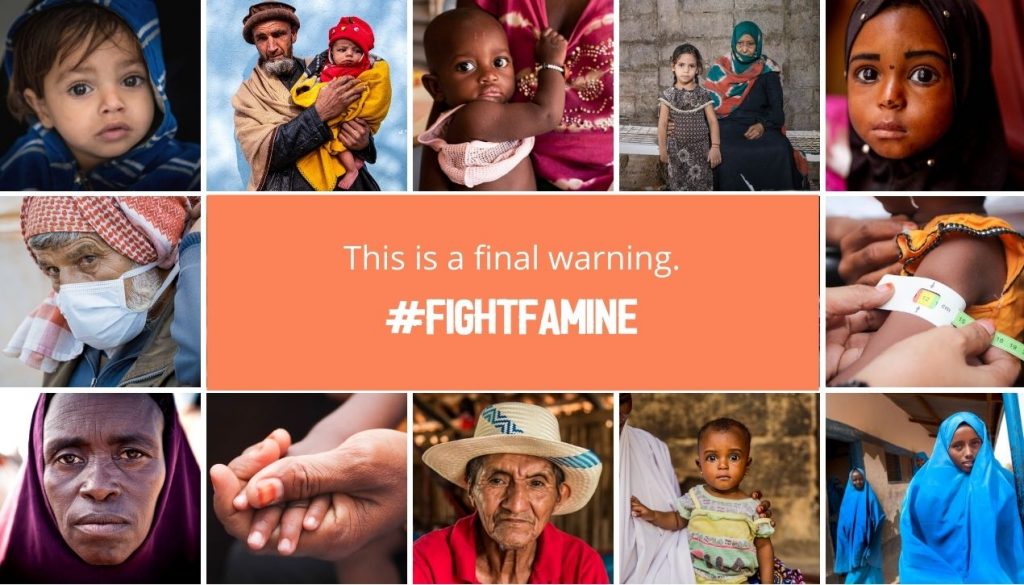 One – urgent funding
At this critical time many rich nations are turning inwards and cutting aid. The recent pledging conference for Yemen, where millions are starving, saw a shameful response. We are calling on states to provide the $5.5 billion needed for urgent food assistance to reach more than 34 million people who are just a step away from famine.
It sounds a lot but to put this in context, it is equivalent to what governments spend on military and arms in just one single day.
All countries should contribute their full and fair share, without diverting resources from meeting other pressing humanitarian needs.
Two – peace
Most of the people facing starvation are in countries affected by large-scale, protracted conflict. We need governments to enhance efforts to work with all parties to end conflict and violence in all its forms. The UN Secretary-General's call for a global ceasefire must be immediately heeded. Humanitarian assistance must be allowed to reach communities without barriers or impediments.
And three – investment in people
We're asking governments to invest in alleviating poverty and hunger, in giving people the tools they need to build more resilient futures for themselves, sustainably adapt to climate change and guard against the shocks of Covid-19. Long-term investment is far more cost-effective in the long run. This will help to prevent future conflict and displacement, and prevent future hunger and famines.
This Ramadan our teams all over the world are delivering food parcels or other food aid to help impoverished families, so that – at least for this month – they can break their fasts with nutritious meals.
But with true global solidarity and commitment to action, we can end global hunger once and for all.