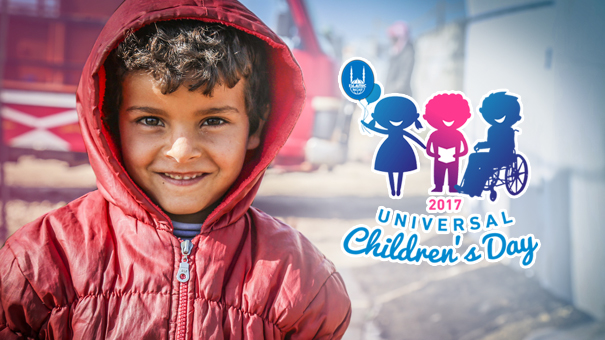 It's Universal Children's Day and Islamic Relief has a global programme of activities to mark the occasion, from play activities to educational workshops, all centred on the theme of what makes children happy.
November 20th is the date the UN General Assembly adopted the Declaration of the Rights of the Child in 1959, and on the same date in 1989 adopted the Convention on the Rights of the Child.
According to the UNHCR, children account for nearly half the world's refugee population. Many of them are deprived of adequate food, shelter, stability, education and the joys of childhood. Some are traumatised by the loss of loved ones, others are left without protection and are vulnerable to abuse, violence, child labour and exploitation.
Neelam Fida, Islamic Relief's Child Protection and Inclusion Advisor, has witnessed the strength children show in some of the most difficult circumstances. "Children are incredibility resilient. Even when they are surrounded by darkness and there is little hope, they continue to strive and manage to cope in some of the most adverse situations. They learn to adapt, build their strength and do what they can to support themselves and even other family members.
"For Universal Children's Day, we asked children from all over the world to draw pictures of what makes them happy. A strong theme in many of their drawings was nature. They drew pictures of children playing in the rain, sitting amongst flowers, fishing, or having fun in the park. Their pictures are full of life and colour. They are an insight into children's minds, and how they derive pleasure from the simplest things in life."
Islamic Relief's child welfare programmes
Islamic Relief's One-to-One Orphan Sponsorship programme currently supports over 56,500 children around the world, many of them living in poverty, conflict zones or in refugee camps. All children on the programme have their basic needs met including nutritious food, clean water, safe shelter, access to healthcare and education.
Our staff are fully trained to identify children who are at risk and to ensure children are safeguarded. We educate families and those who work with children, increasing their awareness of the rights of children, including protection from abuse and the right to grow up in a safe and healthy environment. We also work with faith leaders to promote the wellbeing of children from an Islamic perspective.
Read about Islamic Relief's latest Orphan Sponsorship programme, launched in Malawi this month.