The humanitarian situation in Afghanistan is rapidly worsening, as many have been forced to flee their homes amid the escalation of conflict. This has left many families highly vulnerable, and in urgent need of aid.
Almost 600,000 people from across Afghanistan have been displaced this year and have fled to Kabul, as well as other major cities such as Herat, Nangarhar and Balkh.
Many of those who have been displaced from their homes are in need of aid.
To make matters worse, the price of food and fuel continues to rise, leaving people struggling to support their families.
Afghanistan was already facing a major food crisis. After decades of conflict and political insecurity coupled with 3 devastating waves of Covid-19, drought in the country has left 14 million people without enough food.
Many families do not know where their next meal is coming from, and especially vulnerable groups including women and children have been worst affected by the food crisis.
Vulnerable people caught up in Afghanistan are in urgent need of food and water, as well as hygiene supplies to help keep disease at bay, emergency shelter and survival items.
Islamic Relief are planning an emergency response to provide families in Kabul, Balkh, Herat, and Nangarhar with these essential items.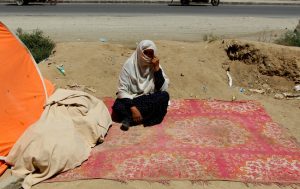 We have been by the sides of the people of Afghanistan since 1999, providing essential food and livelihoods support, as well as running education programmes, providing support to vulnerable women and children, and helping to combat the spread of Covid-19 in the country.
Please support our lifesaving work: donate to our Afghanistan Emergency Appeal now.