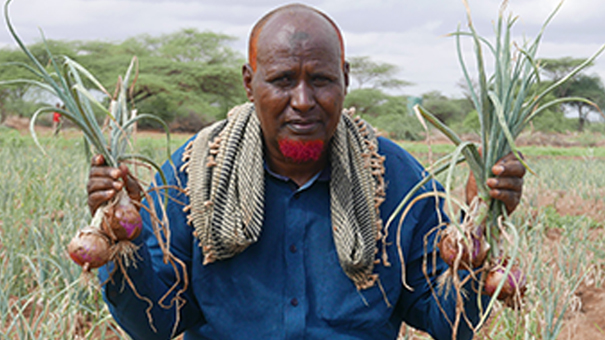 Today is World Environment Day, established by the UN to encourage awareness raising and positive action to protect the environment.
Climate change is the biggest environmental challenge we face, and Islamic Relief is implementing over 50 climate-related projects in 14 countries around the world.
Abdurahman Mohamed Osman, 57, is one of hundreds of farmers benefiting from Islamic Relief's successful Saving Water for Food initiative in Mandera, north-eastern Kenya. Innovative approaches are needed to combat climate change in Mandera, which is not only one of the hottest and driest parts of Kenya but also one of the poorest.
Herding cattle is the traditional way of life but many families have seen their herds wiped out by severe drought, with many children suffering malnutrition. Abdurahman has teamed up with 21 other farmers in his village, Girissa – eight women and 13 men – to grow fruit and vegetables successfully against all odds. They're using a combination of solar power and precision irrigation to overcome the harsh conditions and the chronic lack of rainfall.
Solar energy is used to pump water from a purpose-built shallow well, and the water is then dripped sparingly and precisely onto each individual plant through perforated tubing – a system known as drip irrigation.
The results have been remarkable – a trebling of yields for crops like tomatoes and onions, while using 80% less water and incurring 75% lower running costs than traditional irrigation.
"Islamic Relief supported us in constructing the shallow well," says Abdurahman. "They also provided the solar panels and the water storage tanks."
So far 16 groups of farmers in Mandera county have bought solar irrigation kits. The vision for the project – funded by Islamic Relief USA and USAID – is that 3,000 farmers will adopt the new technology over time and that 18,000 people will reap the benefits of more cost-effective and productive farming and a more secure way of life.
The only things that Islamic Relief provides for free are specialist advice for the farmers on farming techniques and on how to form and manage group savings and loans associations, plus the raw materials needed to construct the shallow wells – cement, metal frames, timber, plastic piping and wire binding. All the other costs – for the solar panels, the water tanks and the irrigation pipes and tubing – are covered by the farmers themselves through a combination of their own savings and microfinance loans.
The two acres of land being jointly cultivated in Girissa was donated to the group by one of its members – Maqakiya Atey, 65. Mama Atey, as she is known affectionately, inherited the land from her husband and wanted the whole community to benefit.
"In the old days, when my family used to herd cattle, there was a lot of vegetation and people used to eat a lot of wild fruits and berries," she recalls. "But today there is not enough food for people and not enough grass for the animals. Through this solar irrigation project we are supporting one another and getting support from Islamic Relief. I am very happy with it."
Download our Climate Champions report.