This World Humanitarian Day, we hear from Islamic Relief aid workers working on the ground amidst two of the most grave conflicts in the world today.
"I am helping to alleviate their suffering"
Abdelrahman Darweesh, Syria
I am the Logistics Officer of Islamic Relief – Syria Office. I have been working for Islamic Relief since the launch of the office in 2012.
On Tuesday last week, we worked on a bulk delivery of medical supplies to hospitals and medical points in the city of Aleppo, which were needed for treating people injured and wounded due to shelling in the city.  During our visit, we conducted a needs-assessment of the medical materials in those hospitals and medical points.
I feel that I live their pain and sorrow
What is most special about aid work is that you can be part of people, of their life, and of their sorrow.  You rejoice in their joy, grieve for their grief and feel their hunger.  You can be part of every detail of their lives.
As one of the workers in the relief and humanitarian field, and through my continuous presence in the field where I am in contact with people, I feel that I live their pain and sorrow.  This enables me to assess people's needs in a real and precise manner.
Also, delivering aid to the most vulnerable people makes me feel that I am helping to alleviate their suffering and put smiles on their faces, which they have not had for a long while.  It also strengthens my resolve to continue working in that area.
One of the things that I like in my job is that I am working within an integrated team through Islamic Relief offices.  We work as an integrated team to deliver real aid to vulnerable people inside Syria in a clear manner.
Meeting the challenges of delivering aid in Syria
Some of the challenges we are facing in the areas that are outside the control of the government are security issues, and the disconnection of any means of communication with the outside world.  Every time we deliver aid to vulnerable people, we may face fighting which puts the life of the team at real risk, and increases the difficulty of delivering aid to those people in need.
One day, we received an emergency call from families displaced from the area of Homs near the Iraqi border.  Based on a field assessment that had been conducted by one of our colleagues inside Syria, we estimated the number of families to be in the region of 200.  This trip had several risks, amongst which that we will be targeted by a possible air strike and the difficulty in delivering that aid.
It was also a great distance away, estimated to be around 600 kilometers inside the Syrian land.  However, because of our determination to deliver the aid to those people in need, we loaded and delivered a large quantity of aid to that region.  Through an integrated team we went with the aid and distributed them to the people who were sheltering in school buildings.  We enjoyed a unique and beautiful feeling that we managed to bring joy to families who were stuck at the Iraqi-Syrian border and were not able to enter into Iraq.
Due to the worsening crisis inside Syria, the situation in the country is very bad and support from the various aid organisations is needed. Currently, there is no light at the end of the tunnel that may give people hope that this crisis will come to an end soon.
Years of fighting in Syria has resulted in the worst humanitarian crisis of the 21st century. Please support our work to ease suffering and end this brutal conflict: donate to our Syria Crisis Appeal today.
Donate
"I feel satisfaction when I see our work having a positive impact"
Nick Jones, Central African Republic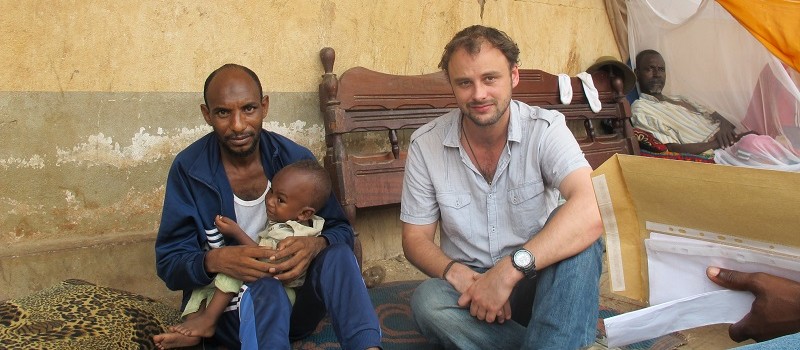 I joined Islamic Relief four years ago, after completing my masters. As Disaster Response Personnel, I am currently working in the Central African Republic (CAR) – already one of the poorest countries on the planet before it descended into widespread violence.
Islamic Relief began working in CAR earlier this year. As the Humanitarian Response Lead for our work in the conflict-torn country, I am responsible for developing the strategy for our work here, setting up our programmes, and getting them delivered. Part of my job therefore is to gather information and coordinate with other organisations to determine how Islamic Relief can add value to humanitarian efforts.
As an aid worker, I want to hit the ground running and have as meaningful an impact as possible.  Right now, we are working with other organisations on the ground to carry out much-needed projects, such as distributions of food and non-food items, and installing Child Friendly Spaces, which are providing thousands of children with respite from the traumas of war.
Meeting the needs of vulnerable people
Islamic Relief wants to make sure these projects are focussed on the people we are here to serve, and that vulnerable people are treated in a dignified manner. So, it is very important to meet our beneficiaries and talk with them. The people I meet are very grateful for the help they receive – but they also tell me that they need much more.
We can help meet their basic needs, such as food, water, and shelter. But most of all, the people I meet want sustainable solutions, like an end to the violence which is tearing apart their lives and communities. By working as part of inter-faith efforts, Islamic Relief is hoping to demonstrate our willingness to support people independent from any politics and  regardless of religion, race, age, or gender.
By working together with other faith-based organisations I hope we can offer an example of inter-faith collaboration and play a role in supporting the people of CAR towards a lasting peace in the country.
The CAR emergency response is chronically underfunded
Frustratingly, though the crisis in CAR is now one of the gravest emergencies in the world today, the humanitarian response is chronically underfunded. The crisis facing the people of CAR is no longer on the media radar, and few people understand the root causes of this complex conflict.
The overall financial requirement for the UN's Strategic Response Plan in CAR is currently funded at just 40 per cent, though this masks the huge gaps in funding for essential work in shelter (funded at 15 per cent), nutrition (34 per cent), food security (47 per cent), health (31 per cent) and education (nine per cent), for instance.
The international community and the media must do much more to raise awareness on both the severity of the needs here, and the true nature of the causes of this conflict.
My work is challenging and satisfying
On a personal level, being an aid worker can be challenging at times. It is a lifestyle choice as much as it is a job, as it completely consumes who you are and dictates how and where you spend your time.  We typically work 12-15 hours a day, with few days off and little time to spend with friends and family. It can be a bit tough to switch-off in my downtime. My mind will continue whirring, and often my dreams will be filled with work.
It can be hard to enjoy the everyday things that interest my friends and family in the UK: the latest movie or snippets of celebrity gossip simply aren't important compared to the enormity of what is happening in CAR and other countries across the globe.  Coming back, it does make you appreciate how privileged we are to be born in a country that allows self-determination, attainment of rights, and the levels of opportunity many of us enjoy.
I love being able to help people
I enjoy many things about being an aid worker. I get to experience current events, travel regularly and learn so much from my work and those I meet.  I have opportunities to immerse myself in meeting a wide range of people, different cultures, and having experiences from which I can learn a lot both personally and professionally.
I became an aid worker because I wanted to help people after natural disasters or conflicts.  Before, I used to watch the TV and get that feeling of "I wish I could do something to help". Now, I am invariably already posted somewhere or already packing.
Recently, Younes, a farmer I met in Bangui, particularly stands out in my mind. He witnessed the deaths of his parents, wife, and three of his children through a machete attack– and only just managed to escape himself. He showed me the scars the machete had wreaked on his body, but his mental scars will be so much harder to heal. Listening to stories like his strengthens my determination to help.  Why should terrible things happen to innocent people?
Whilst I feel sad that I may never know how the stories end for the people I meet, I do feel satisfaction when I see our work having a positive impact. I am pleased to be part of efforts to get real help to those that need it the most. I love being able to make a difference, even in the most challenging situations. It makes the personal sacrifices worthwhile.
Violence in CAR has forced more than one million people from their homes. Many face hardships in swelling camps for displaced people, or uncertain futures as refugees. Please support our work to assist those caught up in the conflict: donate to our Appeal for the People of CAR today.
Donate