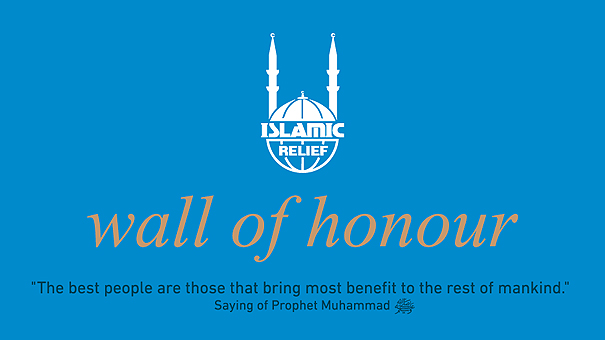 Islamic Relief hear tributes to staff lost in the field.
Delivering humanitarian service can mean working in difficult, unpredictable and dangerous conditions.
On World Humanitarian Day we are remembering our colleagues who lost their lives with a remembrance service at Islamic Relief Worldwide's headquarters in Birmingham, UK.
Zulfikar Ali was 40 when he was killed in Pakistan in early January 2003. Working in the Neelum valley in Azad Kashmir at the time, he was fatally injured when the car he was in was caught up in conflict.
Zulfikar had been working for Islamic Relief for the previous 18 months carrying out humanitarian work in the area, which had experienced ongoing conflict for the previous five years.
He helped Islamic Relief distribute first-aid kits and stretchers to the area, as well as offer first-aid training.
A year later, four members of Islamic Relief staff died in a car accident in Chechnya. They were travelling to visit a bereaved colleague in the Russian Republic of Kabardino-Balkaria when the car swerved into the path of an oncoming truck.
Driving the car was Murat Lukiyaev, 32, who worked as area coordinator for the Russia office for four years. He set up warehouses and distribution channels to bring aid to Chechen refugees in Ingushetia, one of Russia's poorest regions. He was survived by his wife and his four-month-old son.
When Julietta Gourfova, 40, began working for Islamic Relief, it was in a warehouse packing food parcels for refugees. She later moved to the country office in Nalchik. She was survived by her husband and two sons.
Albert Shomakhov was just 24. He worked as a security officer for Islamic Relief and was well-regarded, appreciated for his strength and resilience after losing both his mother and fiancée two years previously. He was survived by his father.
Rimma Taova had only recently begun working for Islamic Relief. She was a personnel officer. Aged 48 when she died, she had two daughters, the youngest of whom was 13.
Tauseef Ahmed Abbasi died in 2010. He was working in Neelum Valley in Pakistan responding to an emergency. A warehouse building collapsed and he was caught in the rubble. He worked for Islamic Relief for around two years. He was dedicated and committed to his job. He was 32 years old when he died, and was survived by his wife, one son and two daughters.
Ahmad Mohamed Noor died on 9 May 2012. He was leaving a mosque in the village of Mursil in Baidoa, in central Somalia, after evening prayers when he was shot. He was a project coordinator for Islamic Relief.